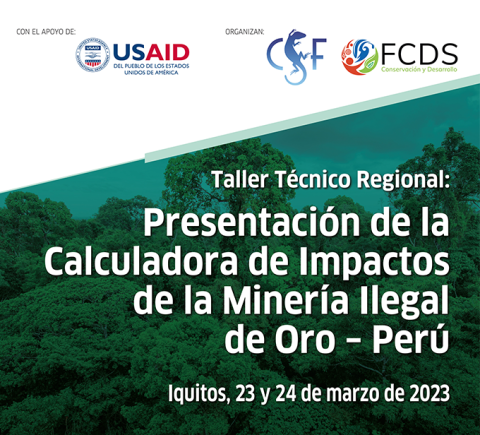 Course Type
Specialized Short Format Training
About the Course
March 23 - 24, 2023: In partnership with USAID's Prevenir Project, Conservation Strategy Fund (CSF) designed and facilitated a workshop entitled "Validación y socialización de una herramienta de valoración económica para el daño ambiental por minería ilegal de oro en la Amazonía" to teach officials how to use CSF's Mining Impacts Calculator and understand the economic strategies that make it such a useful tool.

The one-and-a-half-day training course on March 23 and 24, 2023 in Iquitos (Loreto, Peru) was attended by officials from the regional governments of Loreto and Madre de Dios, representatives of civil society organizations, academia, and decentralized agencies. The workshop covered the main valuation methods to evaluate the effects of mining and the impacts of the use of mercury in mining operations within Peru.
Course Overview 
Module I. Introduction to Environmental Economics
Module II. Introduction to Cost Benefit Analysis (CBA)
Module III. Introduction to Economic Valuation
Module IV. Evaluation of Extraction Productivity: Alluvial, Ferry and Pit
Module V. Impacts of Deforestation (Carbon, non-timber forest products, species habitat, recreation) and Erosion
Module VI. Impacts of Mercury Pollution 
Module VII. Illegal Gold Mining Impacts Calculator
This training took place as part of the Regional Technical Workshop on "Presentación de la Calculadora de Impactos de la Minería Ilegal de Oro - Peru".