Second Marine Fellowship Program Workshop in Tanjung Pinang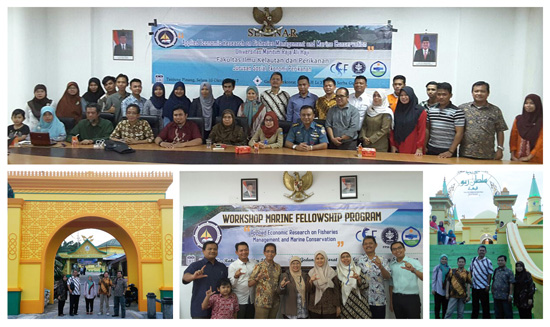 Photo credits: UMRAH
In early 2017, six researchers were awarded a grant as part of CSF's Indonesia Marine Fellows Program (MFP). The six fellows were selected based on their research topics, which seek to answer pertinent questions about fisheries management challenges in Indonesia. The fellows were also paired with mentors who are experts in their respective fields.
The program held its second workshop from October 9-11, 2017. The fellows met with their mentors in person, and presented updates on their research progress to one another. This workshop marked the halfway point of the MFP, and provided an opportunity for the fellows to reconnect with one another. One of the fellows, Khodijah Ismail, and her institution, the Raja Ali Haji Maritime University, generously hosted the workshop in the small town of Tanjung Pinang in the Riau Islands of western Indonesia.
On the first day of the workshop, the fellows presented their progress, results from the field, and preliminary analysis results. It was exciting to hear the progress they have achieved, along with interesting stories from their field work. The first day also included a public seminar on empowering academic resources to develop robust regional fisheries policy. The seminar was attended by representatives of local stakeholder groups including academics, various government agencies, students, NGOs, and the military.
On the second day, fellows met with their mentors to refine their research, and fine tune their approach. We also paid a visit to Penyengat Island, which used to be the capital of the Riau Sultanate. In fact, the town of Tanjung Pinang was the center of this great sultanate in the 1800s. The island held a great mosque, historic cemetery, as well as relics of past glories of the sultanate. After that, we enjoyed a local delicacy, gonggong, a species of molusks that can only be found on the island.
---
Lokakarya Kedua dari Marine Fellowship Program
Di permulaan tahun 2017, enam peneliti memperoleh hibah dana penelitian sebagai bagian dari program Marine Fellowship (MFP) CSF Indonesia. Keenamnya dipilih berdasarkan topik penelitian mereka yang mencoba menjawab tantangan dan persoalan kunci dari pengelolaan perikanan di Indonesia. Mereka dipasangkan dengan akademisi senior sebagai mentor yang relevan dengan topiknya.
Pada tanggal 9-11 Oktober 2017, MFP mengadakan lokakarya yang kedua. Lokakarya ini menandakan setengah perjalanan dari program MFP, dan merupakan sarana untuk menyampaikan perkembangan penelitian mereka, sekaligus ajang reuni bagi para fellows. Salah satu fellow, Ibu Khodijah Ismail bersama universitas di mana beliau mengajar, Universitas Maritim Raja Ali Haji (UMRAH) di Tanjung Pinang, Kepulauan Riau, menjadi tuan rumah untuk lokakarya kali ini.
Di hari pertama lokakarya, pada fellows menyampaikan presentasi perkembangan penelitian mereka, baik hasil dari studi lapangan maupun hasil kajian sementara. Banyak cerita menarik dari lapangan yang mereka sampaikan. Hari pertama juga diisi dengan seminar publik mengenai peran penelitian untuk mendorong sektor perikanan di wilayah kepulauan. Seminar ini disponsori oleh UMRAH, dan menghadirkan pakar pengelolaan perikanan seperti Dekan Fakultas Perikanan dan Ilmu Kelautan IPB, Dr. Luky Adrianto, Wakil Kepala Pusat Kajian Sumber Daya Pesisir dan Laut IPB, Dr. Achmad Fahrudin, Peneliti Senior dari Kementerian Kelautan dan Perikanan, Dr. Umi Muawanah, serta staf pengajar dari UMRAH, Dr. Ani Suryanti dan Hengky Irawan, M.Sc. Seminar ini dihadiri oleh berbagai kalangan, mulai dari akademisi, mahasiswa, pengusaha perikanan, dinas pemerintah, hingga perwakilan militer.
Di hari yang kedua, lokakarya diisi dengan mentoring tatap muka antara mentor dengan para fellows. Mereka mendiskusikan langkah-langkah untuk menyempurnakan penelitian yang sedang dikerjakan. Selesainya, mereka berwisata ke Pulau Penyengat, yang pernah menjadi pusat pemerintahan Kesultanan Riau di tahun 1800an. Di pulau tersebut terdapat Masjid Agung, pemakaman kuno, dan peninggalan-penginggalan bersejarah lainnya dari era kejayaan Kesultanan Riau. Hari itu ditutup dengan menikmati makanan lokal nan nikmat, yaitu gonggong, sejenis siput yang hanya ada di wilayah Kepulauan Riau.