The Road Less Traveled: BR-319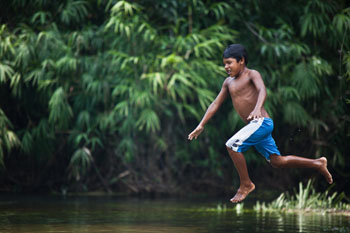 When it comes to the math of improving one of the world's most controversial roads, it's important to include all the numbers. In 2009, powerful government officials lobbied for the paving of BR-319, a nearly impassable, 500-mile route through Brazil's Amazon rainforest. The road was opened by the country's military rulers in the 1970's but soon abandoned for lack of use. Supporters of the plan to reopen it claimed that the road would bring economic opportunities to isolated communities as sure as downpours came from the Amazonian sky. But CSF'S study showed the numbers don't begin to add up. In fact, they're not even close. To this day, BR-319, which if blacktopped, could have an environmental ripple effect on the world, remains tangled in luxuriant jungle.
At first glance, the pro-road argument seemed logical: paved roads lower transportation costs. Paving BR-319 would link the northwestern, isolated Brazilian city of Manaus with the population-dense communities further south. It would connect the poor communities living near BR-319 to the rest of the world (a bus company gave up on running the torturous route years ago). Children in the affected areas would have access to additional schools.
But our research, led by the organization's Leonardo Fleck and Marcos Amend, both CSF course graduates who later joined the staff, found that the $265 million required to rebuild the worst 400 km of the route would markedly improve the lives of only a few hundred inhabitants—a hyperbolic investment of about half a million dollars per person. The analysts also looked into the environmental costs of deforestation the road would cause.
With help from students at Brazil's Universidade Federal de Minas Gerais, Fleck and Amend reported that paving BR-319 would, over a 20-year span, lead to the clearing of 10 million acres of forest, which in turn would release around two billion tons of CO2 into the sky. All in all, the report stated, the deforestation costs alone could run $900 million. Adding insult to injury, protecting the newly vulnerable forest that remained could run the Brazilian government another $250 million, according to our calculations done for an official task force. Overall, the report found that paving BR-319 might return only 6.5 cents of benefits for each dollar of taxpayers' investment.
CSF's sobering report ultimately landed in the hands of officials in Brazil's Ministry of Environment, the federal Senate and staff of the environmental agency in Amazonas state. It was also widely circulated in CSFs broad network of Brazilian course graduates in government and NGOs. The study, along with a firm stance by environment minister Carlos Minc, brough BR-319 to a halt in 2010. The action saved Brazilian taxpayers hundreds of millions of dollars, and opened a historic window of opportunity to conserve the heart of the Amazon.
---
Since 1998, Conservation Strategy Fund has been committed to making conservation efforts smarter through the use of economics. To celebrate, we're going to be sharing 15 stories of success throughout our history. The above is story #9 on our timeline. To start from the beginning, click here. Continue the series with Brazil's Fernando de Noronha Park