MFP Stories from the field: The economic cost of a tsunami in South Lampung Regency
Editor's note: We are sharing stories from our 2019-20 Marine Fellows on our blog and social media this week. Read on and visit us on instagram (@conservationstrategyfund) for more photos.  
Fellow: Permana Ari Soejarwo
MFP Project Title: The Economic cost of a natural disaster on marine tourism in Indonesian coastal areas: The case of South Lampung regency.
In April 2019, we conducted our first field survey to collect data and information related to the tsunami that took place in Lampung in December 2018. The tsunami seriously damaged the marine tourism area in Kalianda District in South Lampung Regency. First, we went to the Lampung Province Development Planning Agency (Bappeda) where they welcomed us with great hospitality. We had a productive discussion with the Secretary of the Bappeda and their team and they expressed appreciation for our research and their commitment to supporting our data needs.
We also collect data from several other agencies including the Tourism Agency, Marine & Fisheries Agency, South Lampung Bappeda, and the Kalianda government. We were assisted by the Lampung Governor's Expert Staff on Tourism so that the process of meeting with various related agencies and institutions could run and received well. This first field survey was quite successful because we were able to collect adequate data on the tsunami damage to facilities and infrastructure. However, several agencies were still not willing to provide their data to us. Another obstacle we found was that tourism data is still incomplete. This was the first tsunami disaster faced by this local government and they were shocked and unprepared to deal with it. Their lack of preparation included systems for tracking inventory damage and data on loss of life.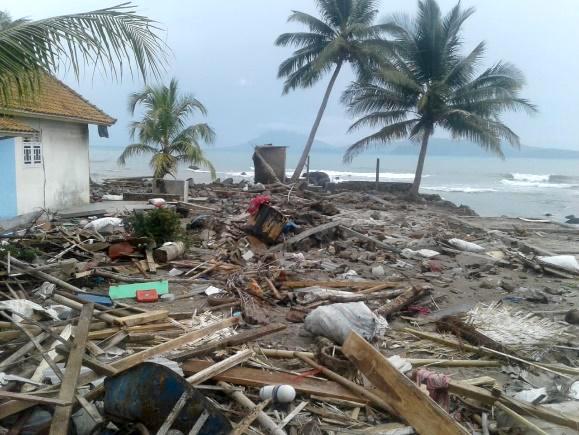 Natural disasters are traumatic for those who live through them and we saw some of the terrifying scenes caused by this tsunami, especially in the Kalianda District. We visited a temporary shelter for victims where we met with a survivor named Mr. Rahmat who told us his story of surviving the tsunami and showed us one of the sites struck by the wave. We were shocked by the massive ruins of destroyed buildings that showed us the dreadful impact of this event.
In the shelter, victims are provided with a private room, shared bathroom, electricity, and clean water. The two active shelters in the area are caring for 66 households and the many injured. The government also provides a weekly food ration that consists of 10 kg of rice, 1 box of instant noodles, 2 liters of cooking oil, sugar, and salt. However, it seems that food distribution has been slowed and the quantities are decreasing.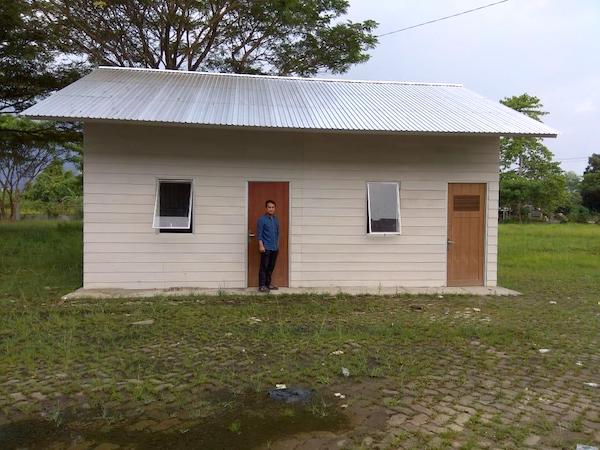 The tsunami victims are being relocated to permanent government housing, but many are afraid to rebuild for fear of another disaster. In spite of this tragedy, there are signs of hope in the community. We saw that the people had not given up and were looking to build a positive future. Perhaps my research can help the regency have a resurgence after this horrific event. By calculating the true cost of the tsunami, I will offer important information for the government in preparing for future disasters of this kind. I hope that this will lead Lampung to become a province that can sustain such disasters, and restore the South Lampung identity in marine tourism.
The Marine Fellowship Program is made possible with generous support from the David and Lucile Packard Foundation.