Marine Fellowship Program Writing Workshop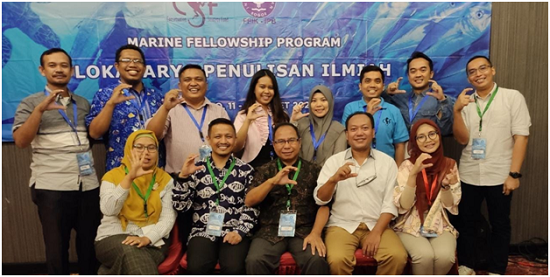 CSF-Indonesia's second Marine Fellowship Program, in cooperation with the Faculty of Fisheries and Marine Science at Bogor Agricultural University (FPIK-IPB), is supporting sustainable development within Indonesia's fisheries and marine sector. The 10 Marine Fellows have spent the past year collecting and analyzing data in order to inform sustainable fisheries and marine resource policy and management in Indonesia.
In March, we held a two-day writing workshop for the fellows in Gorontalo Province on the island of Sulawesi. The workshop was designed to help the researchers effectively write and communicate their results, learn how to improve the chances of publishing their work in an international journal and prepare for the dissemination of their research.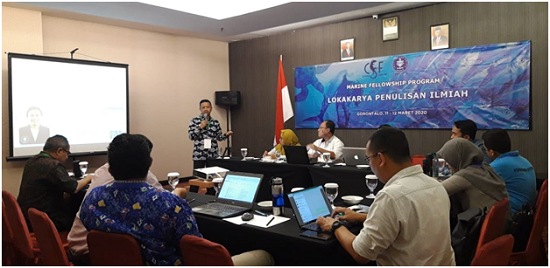 The workshop enabled the fellows to have face-to-face discussions with their mentors, and present their research progress to their peers and supporters. They also learned best practices for journal publication from several experienced academics. "This workshop really helps those of us who work in research and the policymaking process," says Abdul Malik from Makassar State University. 
Our Marine Fellows will share the results of their research throughout 2020, including with local and national government, and CSF-Indonesia will continue to support the fellows in their research through the mentoring program.
The Marine Fellowship Program is implemented in partnership with the Faculty of Fisheries and Marine Sciences of Bogor Agricultural University (FPIK-IPB) and is made possible with generous support from the David and Lucile Packard Foundation.
Check out some of the Marine Fellows' stories from the field below:
Andi Sagita: MFP Stories From The Field: The threats of Plastic Waste to Small-Scale Fisheries in Jakarta
Diding Efendi: MFP Stories from the field: A Fishing Trip to Labuhan Jambu Village in Saleh Bay
Sri Fitriani Monoarfa: MFP Stories from the field: Whale shark tourism in Botubarani Village
Permana Ari Soejarwo: MFP Stories from the field: The economic cost of a tsunami in South Lampung Regency
Adrian Damora: MFP Stories from the field: Small-scale fisheries on Mapur Island
Putu Liza Mustika: MFP Stories from the field: A journey from nadir and back