Exciting new role for CSF founder John Reid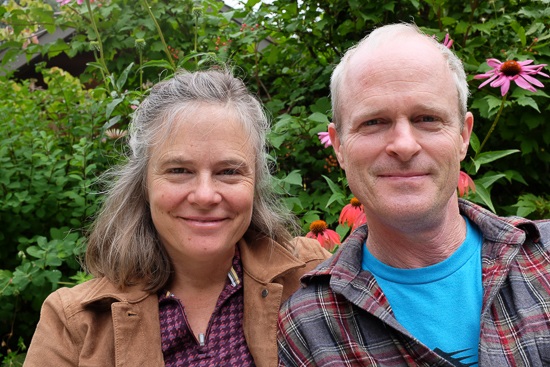 John and Carol ready for the road.
Eighteen years ago this month I quit my previous job and started CSF. I had a four-month-old daughter, a newly signed mortgage - and zero experience raising money or managing anything. But I had what would turn out to be a reasonably good idea and some great friends in the conservation world who helped me get it off the ground. I never could have imagined all the incredible people I would meet, who have become part of this work, who have put their stamp on it, applied it in the world and taught me lessons about nature and people. It's been an unpredictable, sometimes difficult, hugely rewarding and often outrageously fun ride.
This month my daughter is leaving home for university and I'm getting ready to quit my job again. August 31, I'll leave the position of President and hand off day-to-day leadership of CSF to my new friend, our new Executive Director, Scott Edwards, who we introduced in this space in March. Scott is a person of boundless energy and deep intellect who has learned a staggering amount about CSF in the last five months and is ready to lead.
So what's next for me? First, I'm taking a break. My wife Carol and I will spend September through December in South America visiting its natural marvels, beginning in Bolivia. The itinerary is unscripted but the purpose is at least partially clear: to be in touch with nature and renew my sense of direction and inspiration as a conservationist. Some early stops will be Madidi National Park, Torotoro National park and the Salar de Uyuni. We're open to suggestions, so send those along and maybe we'll see you on the journey.
I'll be back at work with CSF January 2, 2017. In my new role, I'll be developing new programs, doing economic analyses, contributing to strategy, working on our communications and mentoring our younger staff members. I'll be on the lookout for opportunities to join forces with organizations large and small to create and launch new initiatives, so let's keep in touch! This change culminates two years of planning by the staff and board of directors, aimed at adding new leadership talent and creating a smooth process of "founder transition," a process that for many organizations is traumatic and anything but smooth. Thanks to some timely support and advice from the Packard Foundation, we're doing it right. Personally, I'm looking forward to putting my creativity to work, contributing to CSF's success and reengaging in conservation in ways that suit my particular abilities.
Thanks to all of you who have made the journey of the last 18 years so much fun and given me such amazing opportunities to do something good for nature. Thanks to the staff, past and present, who have coalesced around a unique institution and a commonsense proposition, namely that economically-informed conservation has better odds of success in the long term. And thanks to all of you who've backed this venture financially and in so many different ways. See you in January!