Bringing economic tools to the mainstream in Indonesia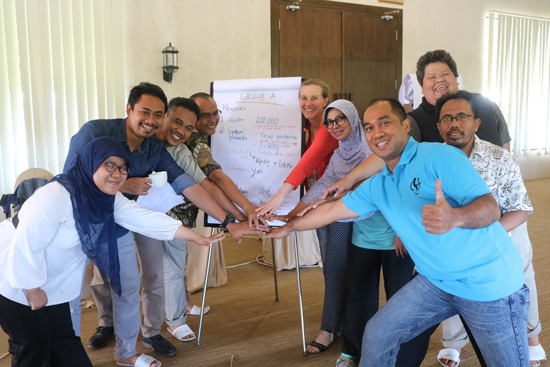 Fisheries and marine conservation initiatives in Indonesia primarily focus on management of specific species, national and subnational level fisheries policy, and Marine Protected Areas. While such initiatives often use a mix of scientific and socio-economic approaches, economic tools and analysis tend to be underutilized.
Conservation Strategy Fund (CSF), with our pool of international instructors and Indonesian experts, is helping to address this by bringing economics to the forefront of the fisheries and marine space in Indonesia. Last month, we held our third two-week course on economic tools for marine conservation and policy in Bali. The course brought together 18 participants from different backgrounds and institutions across Indonesia, as well as eight of the fellows participating in our current Marine Fellowship Program, who will begin their research in May.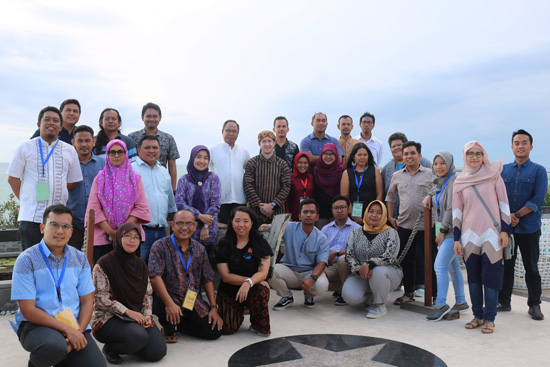 During the first week of the training, Luky Adrianto from Bogor Agricultural University gave an overview of fisheries policy and marine conservation in Indonesia, and CSF-Indonesia Director Mubariq Ahmad introduced macroeconomics and the Indonesian development context. They both emphasized the importance of using economics to support marine conservation efforts, and what it will take for Indonesia to achieve sustainable ocean use as mandated by Sustainable Development Goal Number 14: Life Below Water.
The rest of the week was dedicated to microeconomics, taught by David Johnson from The University of Wisconsin-Madison, and fisheries economics taught by John Lynham from The University of Hawai'i at Mānoa. David, with his animated teaching style, captivated the participants and showed how to harness the power of markets to benefit communities and the environment. John Lynham then related these economics basics to the marine and fisheries context. John led a game in which participants played the role of fishermen under different gear and catch restrictions. This game left a lasting impression about using selective fishing gear and the impact on non-target species.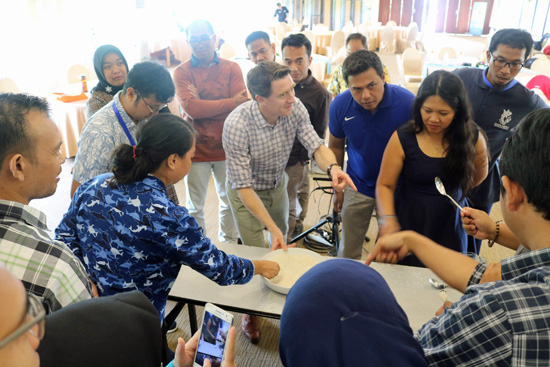 The second week of the course covered valuation and cost-benefit analysis (CBA), and concluded with a policy lab. The valuation module was delivered by Alin Halimatussadiah from the University of Indonesia and covered how to value non-market goods such as clean air and healthy wildlife populations. In the CBA module, led by CSF's Kim Bonine and Desta Pratama, participants engaged in a particularly lively exercise, quantifying the costs and benefits of a hypothetical dam project.
During the final module of the course, Akhmad Solihin from Bogor Agricultural University, Kim Bonine, and Umi Muawanah from the Ministry of Marine Affairs and Fisheries, facilitated a policy lab simulation in which participants were asked to conduct an assessment of a project that could potentially impact the surrounding environment. Later, they were asked to formulate a set of policies and regulations to accommodate the project and make it sustainable. This was followed by a negotiation game, in which participants were grouped into three different stakeholder groups (environmentalists, private sector, and indigenous people), and given a set of problems illustrating opportunities to work together to manage resources. The challenge of coming to an agreement resulted in a great deal of excitement.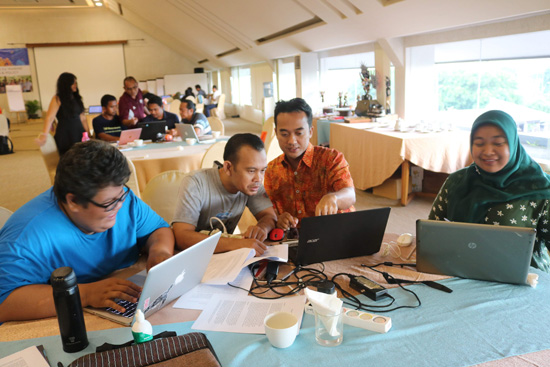 Through games, interactive sessions, case studies, and exercises, CSF was able to give these environmental practitioners, academics, and government staff an economic perspective that would not be possible with traditional "book learning" alone. CSF believes that empowering key stakeholders with knowledge and skills in economics and governance will improve decision making in Indonesia's marine and fisheries sector.