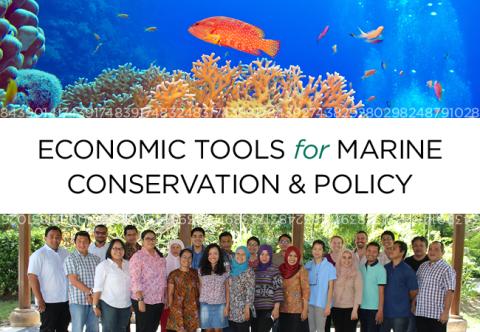 Have you ever wondered how marine conservation can benefit local fishermen, coastal communities, or people in general? Have you ever considered the benefits of protecting coral reefs, seagrass, and mangroves ecosystems from a human perspective? At Conservation Strategy Fund, we know that understanding the economic costs and benefits of conservation is crucial to success in sustaining natural ecosystems.
ABOUT THE COURSE
Conservation Strategy Fund is now accepting applications for our Economic Tools for Marine Conservation & Policy course, to be held March 17 – 30, 2019 in Bali, Indonesia. This course is being offered with generous support from The David and Lucile Packard Foundation. During the course, participants will be introduced to the economic foundations of fisheries management and coastal conservation in Indonesia. Topics will include: economic drivers of destructive fishing practices and coastal degradation, economics of the Ecosystem Approach to Fisheries Management (EAFM), macroeconomics and microeconomics, valuation of ecosystem services, incentives and policy solutions, marine spatial planning, protected area financing, and cost-benefit analysis. Furthermore, participants will also be exposed to CSF's unique way of teaching with hands-on games and exercises.
BENEFITS
Participants will gain theoretical and practical knowledge needed to evaluate marine resource programs and policies, and come away equipped to pursue economically and environmentally sustainable development and management strategies. Policy advisors, conservation practitioners and natural resource managers will be able to make sound economic arguments for the benefits of well-managed fisheries and other marine resources.
INSTRUCTORS
Our instructors are drawn from CSF staff, leading academics at international universities such as University of Hawai'i and University of Wisconsin-Madison, as well as professors from Indonesia's leading universities such as Bogor Agricultural University and Gadjah Mada University.
ELIGIBILITY
This course is for those at the forefront of marine and fisheries conservation challenges in Indonesia, including representatives of government agencies, managers of conservation programs and protected areas, directors of non-governmental and community organizations, foundation program officers, and professionals from development banks and the private sector. Applicants from a variety of disciplines such as biology, law, anthropology, or economics are encouraged to apply. Previous training in economics is not essential. Applicants must be proficient in spoken and written English.
COST
CSF will cover the cost of tuition, accommodation, local transportation to and from the venue, materials, and 3 meals per day for accepted applicants. Please note that participants are responsible for paying their own travel to and from Bali.
APPLICATION & SELECTION
The deadline for applications is February 4, 2019. Selection will be based on several criteria including but not limited to: background, experience in the marine context of Indonesia, willingness to learn, and English language proficiency. Those who are interested should fill out the application form here.
Please contact [email protected] if you have any difficulties in applying or if you have any other questions.
Apply today!