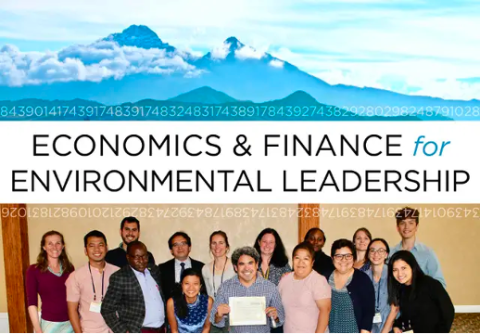 Our renowned Economics and Finance course for Environmental Leadership will be offered for the 25th year, covering economic fundamentals and drivers of natural resource degradation, environmental policies and economic incentives, conservation finance and sustainable livelihoods, valuation of ecosystem services, and cost-benefit analysis of projects and policies. The course helps participants design more effective conservation programs and enables course participants to better assess the socio-environmental impacts of planned development projects.
Our course is for professionals at the forefront of global sustainability issues, and participants come from government, NGOs/CSOs, academia, the private sector, and multilateral institutions. By taking this course, you will be connected with peers from around the world learning how applied economics and finance can help address today's most urgent environmental challenges. Course graduates will join a network of nearly 5,000 CSF alumni in 131 countries representing 3,000  organizations.
Methodology
The course is a dynamic combination of asynchronous lessons and virtual discussion sessions with experienced professors and seasoned professionals. The course is hosted on the Numbers For Nature Training Institute and through live Zoom sessions. Pre-recorded lectures, lecture materials, and readings are hosted on the Numbers for Nature Training Institute, and participants are asked to complete about two hours of work per week on the platform. Two live sessions of two hours each are held each week where the instructor reviews key points, responds to questions, presents case studies, and leads course exercises. 
The 7-week course includes five modules, covering the following topics:
Economic Fundamentals: Key economic concepts, market theory: supply, demand, market equilibrium, and competition, why markets are inefficient when it comes to environmental protection: externalities, market failures, property rights, and public goods
Environmental Policy: Environmental policy instruments and evaluation criteria; Command and control regulation versus economic incentives and market-based instruments; Economics of illegal behavior, including wildlife poaching and overfishing
Conservation Finance Solutions: Finance solutions framework and systems thinking; Public and private sector finance solutions; Scalable solutions and emerging tools and opportunities
Ecosystem Services and Environmental Valuation: Links between ecosystems services and human benefits; Environmental values and valuation methods, including best practices and lessons learned; Case study examples of valuation studies to influence policy decisions
Cost-Benefit Analysis: Overview and framework of CBAs; Financial versus economic analysis, including incorporation of externalities and sensitivity analysis; Case study examples evaluating the economic feasibility of small-scale and large-scale projects
Course participants will obtain:
An essential foundation in basic economic concepts and language.
Insight into the institutional and market drivers of environmental problems.
Tools to evaluate the costs and benefits of both development and conservation decisions, including values of ecosystem services.
Tools to identify and evaluate the value of ecosystem services.
Skills to incorporate economic incentives in more effective strategies and policies for conservation, including sustainable finance solutions.
The ability to articulate environmental values in a language that communities, businesses, and governments can understand.