[SPA/ENG] Presentan análisis sobre conectividad en la Amazonía peruana | CSF's Peruvian Amazon Road Analysis is presented at International Forum for the Well-Being of the Amazon
[English below]
El pasado 9 de septiembre se presentó el Policy Brief "Conectividad en la Amazonía Peruana: Análisis de un Portafolio de Carreteras y Estudio de Caso Boca Manu - Boca Colorado" elaborado de forma conjunta entre Conservation Strategy Fund (CSF), el Grupo de Análisis para el Desarrollo (GRADE) y la Sociedad Zoológica de Fráncfort (FZS Perú).
El documento evalúa los beneficios netos de carreteras en la Amazonía peruana a través de dos estudios, uno de CSF y otro de GRADE. El primero analiza de manera transversal 20 proyectos (21 tramos) y sus riesgos socioambientales en los departamentos de Madre de Dios, Pucallpa y Cusco. Mientras que el segundo, se concentra en el caso de Boca Manu-Boca Colorado en Madre de Dios. La publicación evidencia que los costos de los proyectos analizados superan considerablemente a los beneficios y, por tanto, no existe una justificación económica para sus construcciones.
La presentación se realizó durante el "Foro Internacional Interconectando Bienestar en la Amazonía" organizado por el Observatorio para la Infraestructura Vial Sostenible en los Andes Amazónicos del cual CSF, GRADE y FZS Perú son parte. 
Durante el panel "Experiencias y recomendaciones", Manuel Glave (GRADE), encargado de dar a conocer los resultados de las investigaciones, enfatizó que por más pequeña que sea la escala de los proyectos de interconexión, estos deben someterse a un análisis riguroso y a profundidad que incluyan las variables económicas, sociales, ambientales y culturales.
Puede acceder al Policy Brief haciendo clic aquí.

Sobre el Foro Internacional
Se realizó en la región amazónica de Madre de Dios, el pasado 9 de septiembre de 2022, con el objetivo de compartir información, experiencias y propuestas para las políticas e inversiones sobre infraestructura sostenible en la Amazonía. Además fue un espacio que permitió a las y los candidatos al Gobierno Regional de Madre de Dios dar a conocer sus propuestas sobre interconexión entre los pueblos amazónicos. La transmisión del evento está disponible aquí.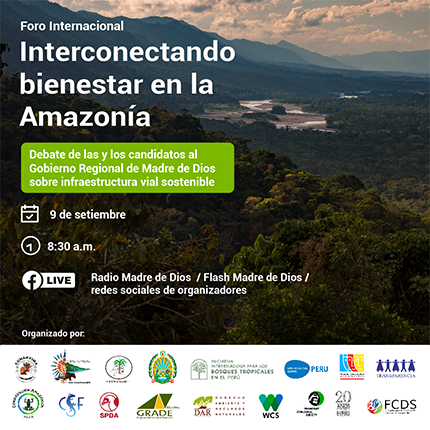 _________________________________________________________
CSF's Peruvian Amazon Road Analysis is Presented at International Forum for the Well-Being of the Amazon 
Our partner, the Group for Development Analysis (GRADE) recently presented on a joint publication entitled "Connectivity in the Peruvian Amazon: Analysis of a Road Portfolio and Case Study Boca Manu - Boca Colorado'' during the Foro Internacional Interconectando Bienestar en la Amazonía. This international forum for the well-being of the amazon was organized by the Observatory for Sustainable Road Infrastructure in the Amazonian Andes, of which Conservation Strategy Fund (CSF), GRADE, and the Frankfurt Zoological Society (FZS Peru).

Our published road analysis was composed of two separate studies —one by CSF and the other by GRADE— and assesses the net advantages of planned road projects in the Peruvian Amazon. The first study examines the socio-environmental risks associated with 20 projects in Madre de Dios, Pucallpa, and Cusco. The second focuses on the Boca Manu-Boca Colorado case in Madre de Dios. The publication demonstrates that there is no economic justification for the development of the projects analyzed since their costs vastly outweigh their benefits. 
"No matter how small the scale of the interconnection projects, they must undergo a rigorous and in-depth analysis that takes into account economic, social, environmental, and cultural factors", said Manuel Glave (GRADE), who was in charge of presenting the research results during the panel "Experiences and Recommendations".
You can learn more about this project here. 
About Foro Internacional Interconectando Bienestar en la Amazonía  
On 9 September 2022, this international forum took place in the Amazon region of Madre de Dios to share information, experiences, and proposals for policies and investments in sustainable infrastructure in the Amazon. It was also a space that allowed the candidates for the Regional Government of Madre de Dios to present their proposals on the interconnection between the Amazonian peoples.  A recording of the event is available here (Spanish).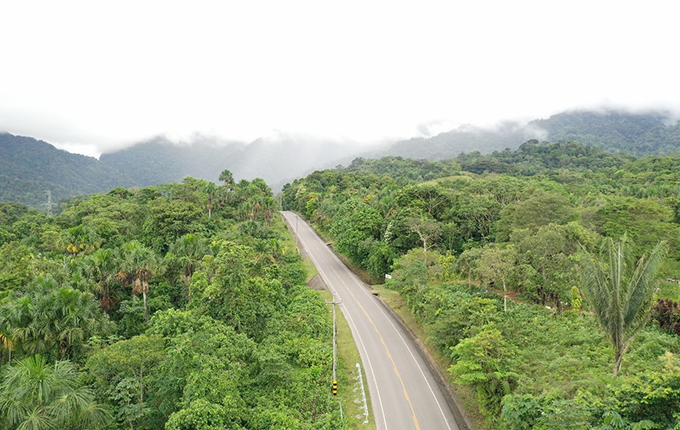 Photo: Diego Guiop/Shutterstock.