Resplendent Roadkill, Almost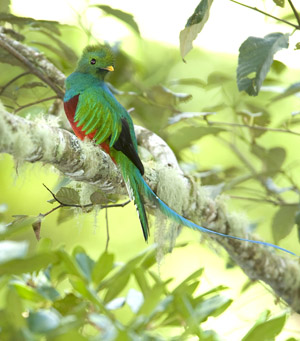 On a clear day from the top of western Panama's 11,400-foot Volcán Barú, you can see the Pacific Ocean to the south and the azure Caribbean to the north. A little harder to spot is the best route around the dormant volcano, the centerpiece of the 35,000-acre Volcán Barú National Park. In 2003, CSF and The Nature Conservancy (TNC) performed an analysis to find out.
Why did we care? The cloud forests that cling to the Volcano's flanks are connected to the vast Amistad International Park (PILA in Spanish). And the still roadless valley in between is alive with Central America's marquee bird, the Resplendent Quetzal, which sports an impossibly long tail and tidy green 'fro. Locals cared for reasons both mystical and practical; the birds drew tourists to the so-called quetzal trail, which would be paved over if the road were to go around the north side of the mountain.
Panama's President, Mireya Moscoso, favored that route. As a concession, she proposed a curious one-lane design and called it, without irony, the Camino Ecológico (Eco Road). The Camino was unpopular with the locals, who asserted that it would be decidedly un–ecológico. Our research confirmed that the choice made bad business sense too. We found that the narrow design would cause traffic snarls and danger, encourage deforestation, and drive up park operations costs. CSF's report showed that the investment would lose nearly $1 million. Moreover, there was a good alternative.
The southern route around the mountain wasn't perfect, but it was better. It was longer and would require expensive new bridges. But the route had bigger economic benefits and lower environmental costs, giving it a higher overall economic return. The two-lane blacktop would traverse already deforested land instead of protected wilderness. Farms established on the productive volcanic soils had been struggling for decades to access markets.
"The [Camino Ecológico] is marked by a fundamental contradiction: It is an apparent compromise between a traditional road and a scenic footpath," wrote the report authors, CSF's John Reid and TNC's George Hanily. "The notion of reconciling environmental protection with economic development is worthy, but this design achieves neither."
In 2004, Panama's new president, Martín Torrijos, canceled the Camino and gave permission for the Southern Route, which has been largely completed.
According to local leader Ezekiel Miranda, who lives in the shadow of the volcano, "If we didn't have a study like the one produced by CSF and TNC, it would have been impossible to prove to the government that there were economic facts telling us that this project wasn't feasible and that there was a better alternative."
---
Since 1998, Conservation Strategy Fund has been committed to making conservation efforts smarter through the use of economics. To celebrate, we're going to be sharing 15 stories of success throughout our history. The above is story #5 on our timeline. To start from the beginning, click here. Continue the series with Capturing Value at Bolivia's Most Visited Park