Población local demanda un acuerdo de conservación para la RB TCO Pilón Lajas / Local population wants a conservation agreement in Pilón Ljas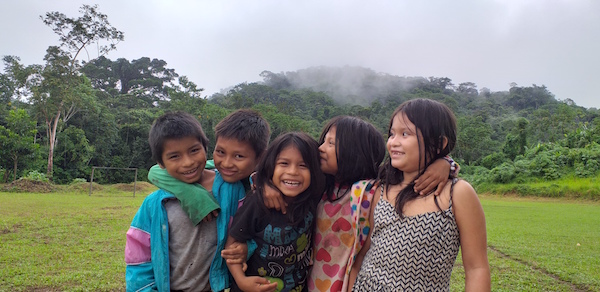 La Reserva de la Biosfera y Tierra Comunitaria de Origen  Pilón Lajas es una de las 22 áreas protegidas nacionales y uno de los 58 territorios indígenas en Bolivia. Esta reserva conecta 4 áreas protegidas en Bolivia y Perú, protege las cabeceras del río Alto Beni, sirve para regular el ciclo local del agua y también es un hotspot de biodiversidad endémica. El área alberga 23 comunidades indígenas, que están afiliadas al Consejo Regional Tsimané Mosetene, y 31 comunidades interculturales, sumando en total  una población de aproximadamente 3.000 habitantes.
A pedido del CRTM, CSF-Bolivia desarrolló un estudio para analizar las condiciones físicas, biológicas, sociales y económicas en la reserva Pilón Lajas, para revelar los problemas clave que afectan la implementación de un acuerdo de conservación. A través de talleres participativos y modelos de simulación ambiental, determinamos que el área protegida desempeña un papel fundamental en la provisión de agua para los municipios de Rurrenabaque, San Borja, Reyes y Santa Rosa del Yacuma, y que los acuerdos de conservación u otros mecanismos de financiamiento serían factibles en la región. Además, notamos que los beneficios de Pilón Lajas, a escala regional, van más allá del consumo doméstico de agua. La actividad económica generada por sectores que dependen en gran medida de los recursos hídricos, como la ganadería, la agricultura y el turismo asciende a 22 millones de dólares anuales.
Los hallazgos de nuestro estudio se compartieron en un taller con gran parte de los actores locales, incluidos agricultores, ganaderos y autoridades municipales. Hubo consenso sobre la urgente necesidad de establecer un mecanismo complementario por el agua, a fin de garantizar el acceso a los recursos hídricos a largo plazo a través de acciones que preserven la Reserva de la Biosfera y Tierra Comunitaria de Origen  Pilón Lajas.
Este trabajo se realizó en colaboración con el Servicio Nacional de Áreas Protegidas (SERNAP) y el Consejo Regional Tsimané Mosetene (CRTM), y fue posible gracias al apoyo del Fondo de Alianza para los Ecosistemas Críticos (CEPF).

///
The Pilón Lajas Biosphere Reserve & Communal Lands is one of 22 national protected areas, and one of 58 indigenous territories in Bolivia. This reserve connects 4 protected areas in Bolivia and Peru, safeguards the headwaters of the Alto Beni River, serves to regulate the local water cycle, and is also a hotspot of endemic biodiversity. The area is home to 23 indigenous communities, which are affiliated to the Regional Council Tsimané Mosetene (CRTM), and 31 intercultural communities, making up a population of approximately 3,000 inhabitants.
At the request of the CRTM, CSF-Bolivia conducted a study to analyze the physical, biological, social, and economic conditions in the Pilón Lajas reserve, to reveal the key issues affecting implementation of conservation agreements. Through participatory workshops and environmental simulation models, we determined that the protected area plays a fundamental role in water provision for the municipalities of Rurrenabaque, San Borja, Reyes, and Santa Rosa del Yacuma, and that conservation agreements or other financing mechanisms would be feasible in the region. In addition, we noted that the benefits of Pilón Lajas, on a regional scale, go beyond domestic water consumption. The economic activity generated by sectors that depend heavily on water resources, such as livestock, agriculture, and tourism, amounts to USD$ 22 million annually. 
The findings from our study were shared in a workshop with local stakeholders, including farmers, ranchers, and municipal authorities. There was a consensus on the urgent need to establish a complementary financing mechanism to guarantee access to water resources in the long term through actions that preserve the Pilón Lajas Biosphere Reserve & Communal Land. 
This work was completed in collaboration with the National Protected Areas Service (SERNAP) and the Tsimané Mosetene Regional Council (CRTM), and made possible with support from the Critical Ecosystem Partnership Fund (CEPF). 

Niños de la Reserva de Biosfera y Tierra Comunitaria de Origen Pilón Lajas. / Children at the Pilón Lajas Biosphere Reserve and Communal Lands. Fotógrafa / Photographer:  Irina Cabrerizo