Numbers for Nature in Peru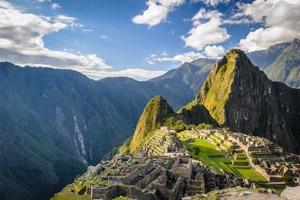 Fernando León is a business school graduate most commonly seen in suit and tie. He's also one of Peru's most successful conservationists. His country has tropical forests covering an area the size of California, a coastline rich in marine life, and protected cultural marvels like Machu Picchu. A veteran of years working in the government, he was frustrated by the meager funding allocated to protecting the country's natural heritage.
In 2006, Fernando came to CSF's course at Stanford to add economic analysis methods to his toolkit. On his return home he undertook an ambitious study to estimate the contribution of the country's protected areas to the national economy. "The report convinced the Ministry of Economy and Finance to increase the budget for the protected areas system by 400 percent," Fernando reports.
Several years later in a post at the newly created cabinet-level Ministry of Environment, Fernando was charged with developing a policy that would require developers to compensate for their environmental impacts. Relatively few countries have such policies, so he didn't have precedents to follow, just one to set.
In late 2010, Fernando called in CSF to help. Over several months, Fernando and CSF President John Reid hammered out drafts of a set of broad guidelines that would require offsetting areas to be permanently conserved, with long-term financing and, most importantly, accounting for projects' indirect impacts. Indirect impacts include, for example, the vast areas often cleared for agriculture when a new road is built in a forested area.
The guidelines gained new momentum with the naming of long-time environmental advocate Manuel Pulgar Vidal to lead the ministry later that year. He convened a working group, including CSF, the Peruvian Society for Environmental Law, the Wildlife Conservation Society, the Nature Conservancy, GiZ and others, to move the policy forward, culminating in a Ministerial Resolution in 2014. The policy has the potential to be an international model for protecting nature by internalizing the environmental costs of development.
Environmental gains like these are won because there is someone with Fernando León's entrepreneurial creativity, ability to bring people together, and access to some timely knowledge on how to use numbers for nature.
Photo Credit: Anton Ivonov
---
Since 1998, Conservation Strategy Fund has been committed to making conservation efforts smarter through the use of economics. To celebrate, we're going to be sharing 15 stories of success throughout our history. The above is story #12 on our timeline. To start from the beginning, click here.