Mesoamerican Reef Leadership Course in Honduras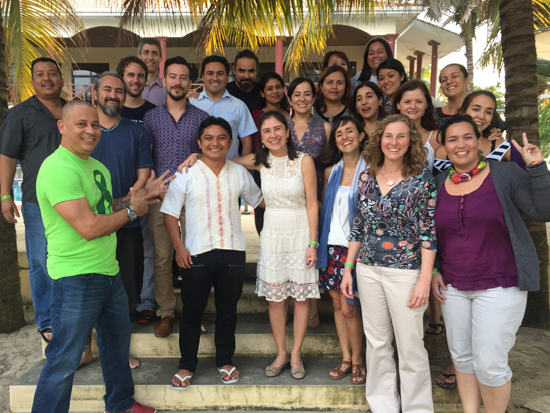 MAR-L Fellows with course organizers and instructors. Photo credit: FMCN
In January, CSF Training Director Kim Bonine and Senior Economist Aaron Bruner traveled to Tela, Honduras to teach in the second Mesoamerican Reef Leadership (MAR-L) training course. The MAR-L program builds capacity and leadership skills of young conservationists in the region. CSF is working with MAR-L to provide economics expertise to twelve fellows on the 2016 program theme: Promoting a Blue Economy Approach to Sustainable Development.
The main goal for the MAR Leadership Program 2016 cohort is the development of successful projects that will help establish the foundations of a Blue Economy in the Mesoamerican Reef region and conserve its natural capital. The focus of the second workshop was on ecosystem service valuation, a set of approaches from environmental economics used to assign a financial value to the benefits that nature provides.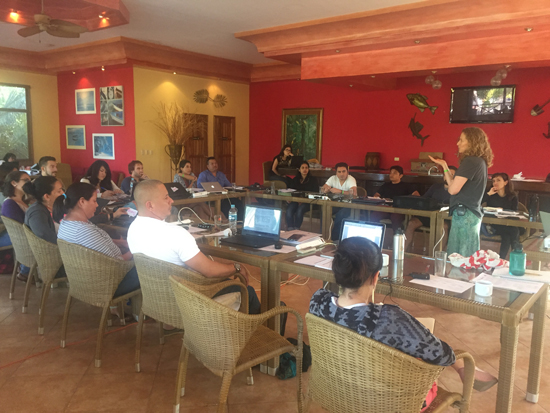 Kim Bonine in the classroom. Photo credit: FMCN
Kim spent two days teaching valuation to the 2016 cohort of fellows. Her presentations introduced them to the fundamental concepts and key questions involved in environmental valuation. She then went into detail about four prioritized valuation methods:
The third day of the workshop consisted of a project feedback panel, in which three of the fellows presented their valuation projects and received feedback from Kim, Aaron, and Ángela Mojica (2012 MAR-L fellow and CSF International Course graduate). This discussion enabled the fellows to refine their project ideas, and develop concrete plans for how to conduct valuation studies to support policy change. Later that day, fellows benefitted from a real life example when Ángela presented a case study of a marine valuation study from Cozumel, carried out as part of CSF's recent collaboration with GIZ and CONANP's EcoValor Mx program.
We are so pleased to be working with such a passionate, engaging group of conservationists in a region so rich in beauty and biodiversity. The next MAR-L workshop will focus on Value Chain Analysis, and will take place in Guatemala in mid-May.