Integrated landscape management course for leaders from Central Kalimantan Province in Indonesia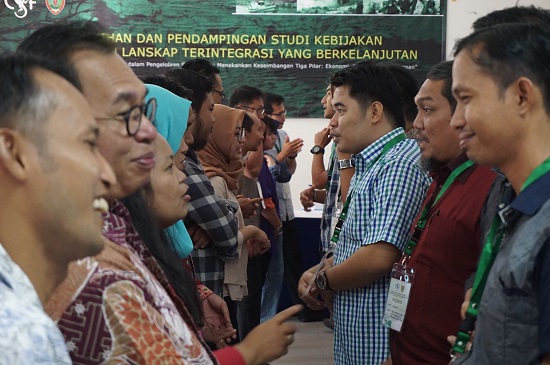 Participants during an interactive game. Photo: Bappeda Kalimantan Tengah
Central Kalimantan Province in Indonesia is, in many ways, a good example of the mix of challenges and problems in the forestry sector. Forest fires, rapid and unsustainable expansion of palm oil cultivation, land conflicts, illegal mining, and weak forest governance are all present within the province. At the same time, Central Kalimantan is also a good showcase of possible solutions. During the past 10 to 15 years, numerous demonstration activities have shown that possible solutions exist. For example, during the height of the UN REDD+ program, Central Kalimantan was home to the most projects in Indonesia, exposing local stakeholders to a variety of potential solutions to current forestry and land use challenges.
As part of a project on integrated landscape policy supported by the David and Lucile Packard Foundation, CSF held a one week course in Palangka Raya, Central Kalimantan in July 2017. The purpose of the course was to build capacity and knowledge among local stakeholders of economic tools and policy options on integrated landscape management while drawing on shared knowledge and experiences. Participants included 31 individuals representing government agencies, academia, and civil society organizations from six kabupaten (regencies): Katingan, Pulang Pisau, Gunung Mas, Kotawaringin Timur, Kotawaringin Barat, and Seruyan. Course instructors were forestry practitioners from different backgrounds and disciplines, namely economics, forestry science, anthropology, law, and mapping.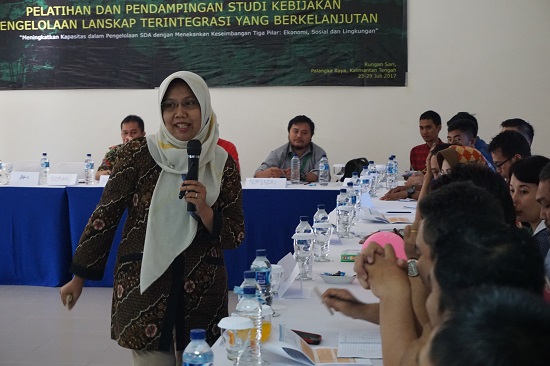 Umi Muawanah, a Ministry of Maritime Affairs and Fisheries Economist, giving a lecture on Microeconomics. Photo: Bappeda Kalimantan Tengah
The diverse backgrounds of the participants and instructors were extremely beneficial to the course. Their multidisciplinary knowledge enriched discussions and added new perspective to topics such as oil palm expansion, village budgeting for conservation, effective policy for integrated landscape management, the jurisdictional approach, and incentives for changing behavior of both policy makers and policy target groups.
In addition to presentations and discussions, the course used an interactive learning approach. Participants engaged with each other via a series of games designed to impart economic and policy concepts through direct experience.
At the end of the training, participants worked together to decide on a research idea to conduct in their kabupaten. Each research idea will be presented to the Bupatis (heads of the regencies) and other relevant government representatives for support and acknowledgement. With CSF support, six research projects will start in October 2017. Stay tuned for more on these exciting projects!

Course participants and instructors in Palangka Raya, Central Kalimantan. Photo: Bappeda Kalimantan Tengah