Green Sintang Phase 2 Kicks Off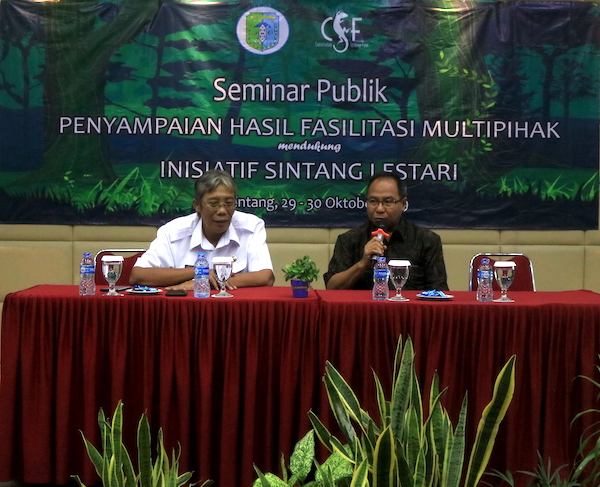 Sintang Regency is located in the dense rainforests known as the Heart of Borneo in West Kalimantan Province, Indonesia. Palm oil plantations, illegal logging, and mining have resulted in deforestation and habitat destruction that has affected the diverse people and wildlife that live in Asia's last great rainforest.  Faced with these challenges, the Sintang government recognized that sustainable development was the only way to preserve the precious biodiversity of this area for future generations and secure long-term economic prosperity. In 2018, CSF-Indonesia began collaborating with the Sintang government to create a strategic plan for environmental and economic sustainability in the region.
Eighteen months of collaborative research, stakeholder engagement, workshops, and capacity building has led to Regent Regulation No. 66 on the District Plan of Action for Green Sintang (RAD-SL). This regulation will serve as official guidance for the strategic development of Sintang towards its sustainable development goals. The new regulation also signals the Regent's support for Sintang to become Indonesia's first Green Regency.
CSF facilitated a  seminar from October 29th - 30th to mark the end of Green Sintang Phase 1 and the beginning of Green Sintang Phase 2. This next phase will focus on building stakeholder capacity for the RAD-SL implementation through a series of training and workshops. More than eighty people from government and non-government institutions attended the seminar and were given time to analyze and review the new regulation. Participants were also invited to offer suggestions for improvement before implementation. 
Sintang's Regent Jarot Winarno expressed his full support for the RAD-SL and showed his gratitude for CSF's efforts to facilitate the formulation of the regulation. In his speech at the event Mr. Winaro said, "Due to the long process of this initiative, to create an Action Plan towards Green Sintang, we are really grateful to Mubariq Ahmad and CSF-Indonesia in facilitating our vision. I hope all the stakeholders will support Sintang in becoming a Green Regency." 
The seminar received wide local media coverage. Check out some of the articles below (in Indonesian): 
Betang Raya Post: Sekda buka seminar publik penyampaian hasil fasilitasi multi-pihak mendukung inisiatif Sintang Lestari
Detiksatu: Dewan Dukung Perbub No. 66 Tahun 2019, Menuju Sintang Lestari
Pontianak Tribunnews: Pemerintah Kabupaten Sintang keluarkan Peraturan Bupati tentang rencana aksi daerah Sintang Lestari
PERS Cyber News: BUPATI LAUNCHING PERBUP MENUJU SINTANG LESTARI
Inside Pontianak: Membangun Sintang Sejahtera dan Lestari
Suara Kalbar: Konsep Sintang Lestari Perlu Terus Dikonkritkan
Berita Anda: Kabupaten Sintang Terus Berbenah Melalui Berbagai Kebijakan Pembangunan
CSF-Indonesia will continue our collaboration with the Sintang government in facilitating this process over the next two years. Stay tuned for more updates on this long-term policy engagement. As always, we are grateful to The David and Lucile Packard Foundation for making this work possible.