CSF-Indonesia supports government efforts to achieve a Green Sintang
CSF-Indonesia has officially begun working to develop a shared vision and roadmap for Green Sintang Regency (Kabupaten Sintang Lestari) in West Kalimantan Province, Indonesia. Green Sintang refers to the transition to sustainable, low carbon development principles, and preservation of natural resources and ecosystems. With the programs brought by CSF Indonesia and other Civil Society Organizations (CSOs) under the Circle of Green Regency group partners (Lingkar Temu Kabupaten Lestari, LTKL), the government of Sintang will have the opportunity to achieve Green Regency despite the establishment of new large scale plantations within the area. The Sintang government recognizes the need to engage stakeholders in land use planning to ensure sustainability and more equitable distribution of benefits from development. CSF held a kick-off meeting on April 9th and 10th and involved CSOs and Local Government Agencies (Organisasi Perangkat Daerah - OPD).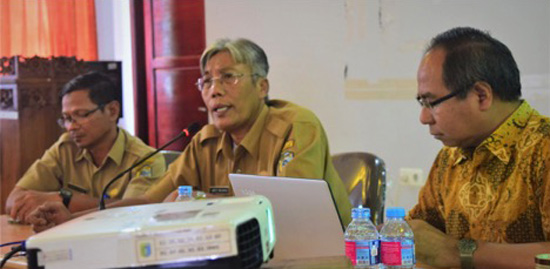 Regent of Sintang, Mr. Jarot Winarno, opened the discussion of CSF-Indonesia program with OPDs. Photo credit: Sopian Hidayat
The first day of the meeting was attended by forty CSO representatives who are actively involved in supporting the government to achieve Green Sintang. The head of the Sintang Planning Agency, Mr. Kartius, led the meeting and was accompanied by Mr. Henri Harahap, Assistant II of Regent, and CSF-Indonesia country director, Mr. Mubariq Ahmad. In this session, CSF spoke about the activities we have planned for the region over the next two years, including: stakeholders dialogues, background studies, training on sustainable development and integrated landscape policy, scenario planning workshops, and training on sustainable landscape modelling. The expected outputs will result in the Sintang sustainable landscape plan, which will be developed and aligned with other land-based initiatives.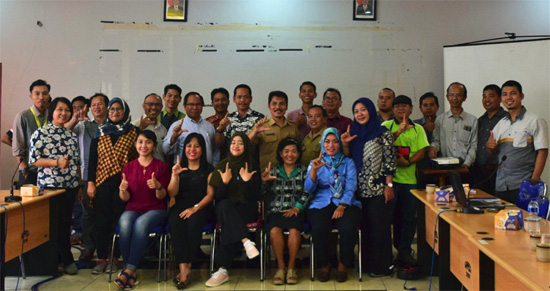 CSO representatives at the event. Photo credit: Bappeda staff.
On the second day of the meeting, the Regent of Sintang, Mr. Jarot Winarno, officially opened the CSF project and stated that Sintang Regency is committed to supporting the national government in efforts to mitigate climate change and build a more resilient nation. Indonesia has agreed to reduce greenhouse gas emissions by 29% by 2030, as declared in the Paris Climate Agreement. This commitment will require hard work, strict implementation, and collaboration among stakeholders. Sintang Regency holds 1.3% of the total forested area in Indonesia and is therefore an important area for carbon sequestration in the country. To support the Government of Sintang's commitment, CSF will support sustainable landscape planning through multi-stakeholders consultation and coordination as well as capacity building. This support will be used to revise the Mid Term Development Plan of Sintang for period of 2016 - 2021 and prepare the Detailed Spatial Plan of Sintang Regency.
This work was made possible with funding from the David and Lucile Packard Foundation.