CSF delivers first training in India, with GIZ
Economic Valuation of Ecosystem Services
Wildlife Institute of India, Dehradun, India
March 14-17, 2016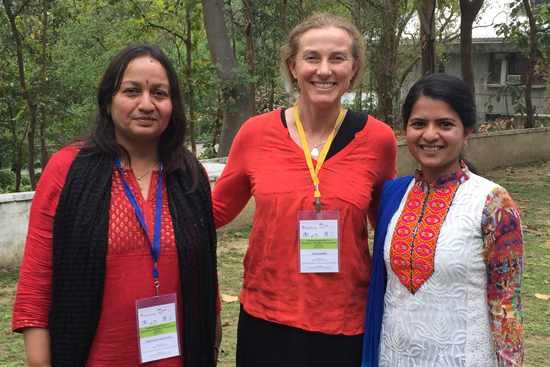 CSF Training Director Kim Bonine with course participants.
Stepping out of the airport in Delhi in March, I was immediately surrounded by vibrant colors, frenetic activity, rapid voices – not surprising in India's capital city of 25 million people – before being swept into a taxi and driven across the bustling city. The next morning we left on a seven-hour journey by car northwards to Dehradun - seeing along the way a mixture of the modern and traditional in the buildings and landscape, and narrowly dodging bicyclists, pedestrians, oncoming buses, and ubiquitous ox carts.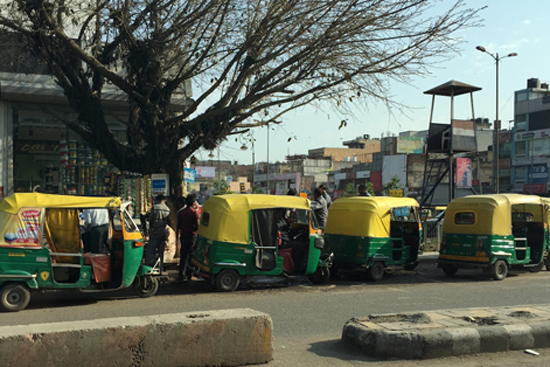 Taxi carts lined up in Dehli.
Dehradun lies at the foothills of the Himalayas, and is the capital of the relatively new state of Uttarakhand in the northern part of India – a state that borders Tibet and boasts incredible destinations for wildlife, trekking, meditation and yoga enthusiasts from around the world. It is also home to the Wildlife Institute of India (WII), the location of our Economic Valuation of Ecosystem Services course. WII sits on a beautiful campus, close to the Rajaji National Park and tiger reserve. The Institute is an internationally acclaimed center offering training programs, academic courses and technical support in wildlife research and management, and a number of WII staff members have attended CSF courses over the years. Our course at WII was one of a series of global trainings CSF is developing with the GIZ ValuES program, including a course in Namibia delivered in September 2015 in collaboration with GIZ and the Namibian Ministry of Environment and Tourism.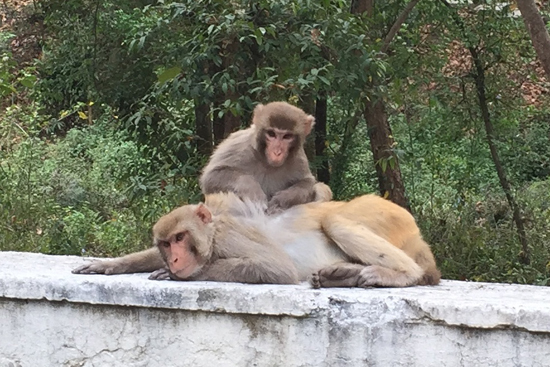 Monkeys grooming at WII.
The Economic Valuation of Ecosystem Services training at WII brought together 25 participants from diverse organizations and institutions in India, include the Uttarakhand Forest Department, Wildlife Institute of India, IUCN, WWF India, the Zoological Survey of India, and the Forest Research Institute of India. Over the course of four days, participants were introduced to the fundamentals of economic valuation of ecosystem services, including:
• overview of ecosystem services and the assessment process • economic theory and economic drivers of environmental problems • common pool resource management, incentives and behavioral theory • environmental valuation methods and examples • integrated environmental-economic cost-benefit analysis of projects and policies • incorporation of ecosystem services into policy decisions and public opinion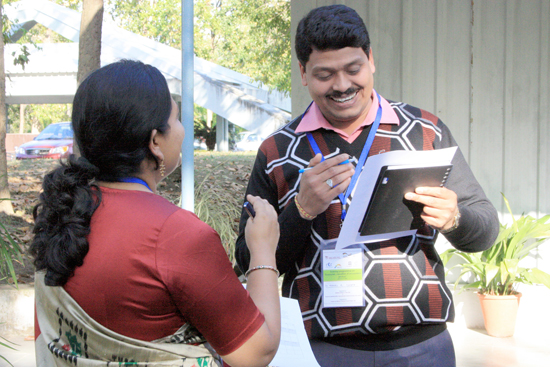 Course participants negotiating market prices.
The course was opened by Dr. G. S. Rawat, Dean of WII, who stressed the importance of understanding the theory behind buzzwords like ecosystem services and valuation. It was an honor and pleasure to work with the GIZ team in Dehli, with Dr. Asha Rajvanshi and Persis Farooqy from WII who orchestrated a seamless four days with their training team, and to meet WII Director Dr. Vinod Mathur, whose vision includes plans to replicate this type of training with institutions throughout India. We hope to return to India soon - a country full of hospitality, diversity and energy, and the only place I have given a lecture that was simultaneously broadcast on four high-tech screens and also interrupted by monkeys running across the rooftop above.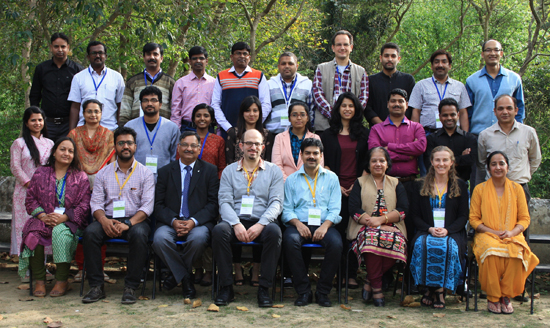 Instructors and participants in Dehradun.