CSF Alumni attend COP 13 in Mexico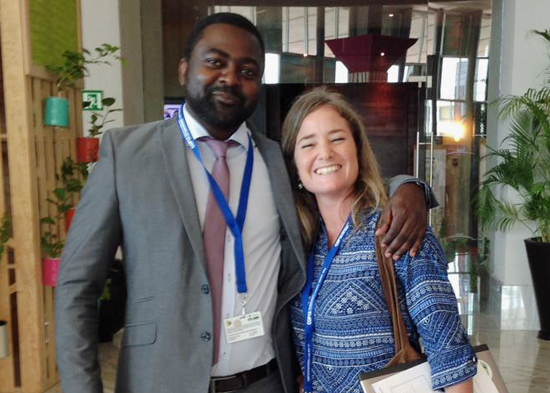 Ferdinand Mwapopi and Elisa López at the COP-13 in Cancún, Mexico. Photo credit: Elisa López
Last month, CSF alumni created a splash at the UN Biodiversity Conference in Cancún, Mexico with presentations, panel talks and discussions. The Conference was the site of the 13th meeting of the Conference of Parties (COP). The COP is the governing body for the Convention on Biological Diversity, an action plan for the environment that was signed by 150 world leaders at the Rio Earth Summit in 1992. The Convention is dedicated to promoting sustainable development worldwide, and the COP is tasked with implementation through decisions made at their periodic meetings.
CSF Alumni were involved in a number of side events that took place alongside the COP-13 meeting. During the two-week conference, our alumni spoke on panels, facilitated discussions, and presented work on valuation of nature, poaching and the illegal wildlife trade, knowledge sharing, development finance, gender, and policy impacts. The International Institute for Sustainable Development (IISD) Reporting Service provided detailed summaries of all the side events. The following text is modified from their reports, which can all be found online.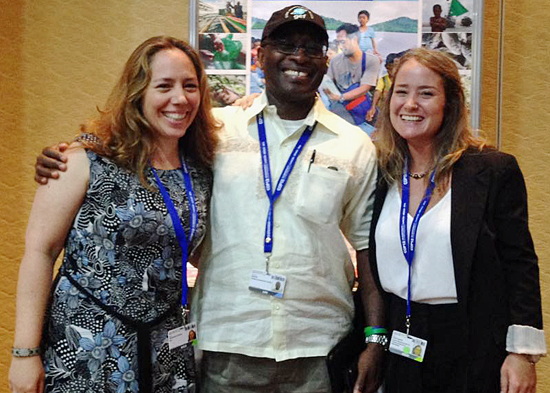 Natalie Rodríguez Dowdell, Mohamed Bakarr, and Elisa López, 2016 international course alumni. Photo cedit: Elisa López
On December 8th, Mohamed Bakarr (2016 International course graduate) contributed to a joint GEF/World Bank event on the Global Partnership on Wildlife Conservation and Crime Prevention for Sustainable Development (the GPW project). He introduced the partnership program, a country-driven initiative involving 19 countries in Africa and Asia, which is focused on reducing poaching and illegal wildlife trade through enhancing benefits to communities, increasing law enforcement, and reducing demand for illegal wildlife products through outreach and efforts to raise awareness.
Later the same day, Ulrike Tröger from GIZ (2014 international course graduate) moderated a session on Multiple Approaches to Valuing Nature: The Work of the Intergovernmental Science-Policy Platform on Biodiversity and Ecosystem Services (IPBES) on Diverse Values and its Echo in Practice. In the event, the IPBES guide on multiple concepts of values of nature was presented. This guide can support more holistic decision-making and incorporation of these values into social and environmental assessments. Ulrike spoke about how the GIZ ValuES project intends to pick up findings from the report to further its goal of using the ecosystem services approach to improve decisions.
On December 9th Elisa López from Mexican Fund for the Conservation of Nature (FMCN) and Natalie Rodríguez Dowdell from Rare (both 2016 international course graduates) shared experiences using the PANORAMA platform, an IUCN initiative, to share knowledge and create evidence-based innovation.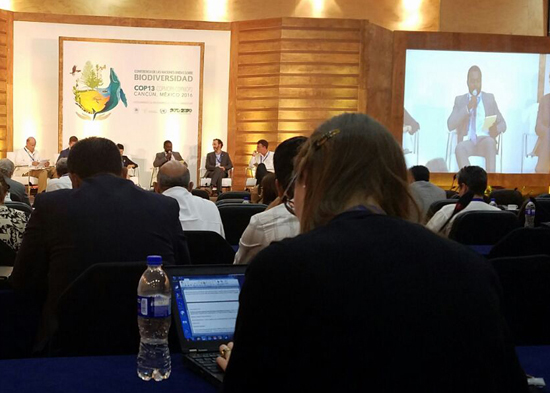 Ferdinand Mwapopi, 2016 international course alumni, presenting at a COP-13 side event. Photo cedit: Mohamed Bakarr
On December 10th, Ferdinand Mwapopi from the Ministry of Environment and Tourism in Namibia (2016 international course graduate) discussed his country's experience in tracking national biodiversity expenditures as part of the Biodiversity-Related Development Finance session. He described successes using the UN Development Program (UNDP) Biodiversity Finance Initiative (BIOFIN) approach for public-private expenditure reviews of biodiversity and for costing biodiversity-related projects.
On December 12th, Monique Akullo from the National Environment Management Authority of Uganda (2012 Albertine Rift course graduate), presented on Integrating Gender Considerations in the second National Biodiversity Strategies and Action Plans (NBSAP II). She noted that the main constraint of her country's NBSAP II review process was the lack of knowledge and capacity on what gender mainstreaming entails. She reported that the IUCN-CBD-Japan Biodiversity Fund support has led to the formation of a gender taskforce to spearhead gender integration in all government plans, programs, and projects. The gender taskforce would also provide opportunity to report progress on gender and biodiversity conservation in Uganda.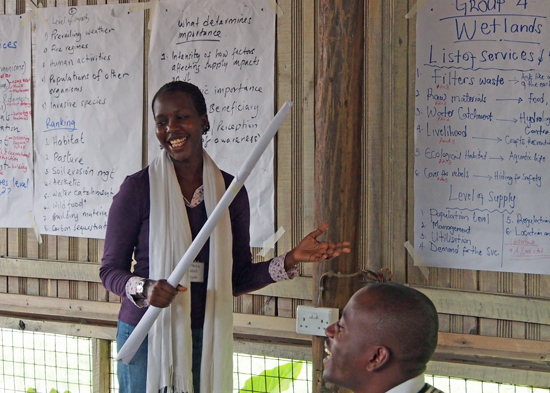 Monique Akullo presenting at the CSF 2012 Albertine Rift course in Uganda. Photo cedit: Kim Bonine
On December 16th, Ferdinand Mwapopi participated again, this time on Increasing the Policy Impact of Ecosystem Service Assessments and Valuations, focusing on insights from Namibia. He presented experiences with ecosystem services assessments in Namibia and highlighted the steps they have taken, namely: studies to identify, delineate and assess ecosystems; the identification of ecosystem services and development of an ecosystem services inventory; prioritization of certain ecosystem services given limited resources; and capacity development.
---
CSF is currently working on projects with several of these same alumni.
We have an ongoing project with Ulrike Tröger to develop and implement a training program on Valuation of Ecosystem Services as part of the GIZ ValuES program. We have worked together to deliver courses in Germany, India, Mexico, and Namibia, as well as a number of sessions at the IUCN World Conservation Congress in Hawai'i last September. Our courses in Namibia also involved collaboration with Ferdinand Mwapopi and other CSF alumni in the region.
We are working with Elisa López and FMCN to deliver training on the Blue Economy to the 2016 cohort of Mesoamerican Reef Leadership (MAR-L) fellows. Our next course will be in Honduras later this month.
Monique Akullo is working to finalize publication and printing of a valuation study estimating environmental and biodiversity costs of oil pipeline development in Murchison Falls National Park in Uganda. This study was conducted as part of our BUILD program, made possible by USAID.
---
When we learn that so many of our alumni are involved in this type of global scale event, presenting their important work to the international conservation community, we are reminded how lucky we are to have the opportunity to work together. Our alumni are a dedicated and inspirational group of people, stretching in a vast network across the globe. They work hard on behalf of the environment and all the species that call it home. And it is our privilege to know them and to have given them additional skills for even greater impact. Thank you, CSF alumni!
If you would like to learn more about how economics can help you in your environmental work, and get to know conservation professionals from around the world, become a CSF alumni! Apply today for our international Economic Tools for Conservation course at UC Berkeley taking place June 19-30, 2017.
2016 international Economic Tools for Conservation course participants and instructors. Photo cedit: Niki Gribi