Alumni Spotlight: Rushikesh Chavan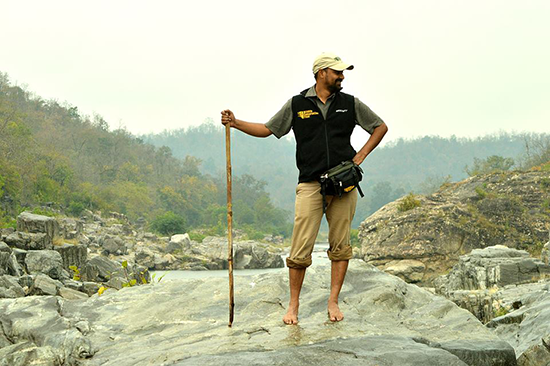 Rushikesh Chavan at Pench River between Maharashtra and M.P. Photo courtesy of Ishwar Uikey
Rushikesh Chavan, a sprightly man with a contagious smile and energy that lights up the room, chatters quickly to me as I feverishly type every word he says. To say he's a busy guy is an understatement; he has taken time away from his work at Wildlife Conservation Trust (WCT) in Mumbai, India and his Master's program in Economics to fly to California and attend CSF's Economic Tools for Conservation course at Stanford University.
He sat down with me over dinner on one of the last nights of the training at the course house to tell me about his work and how the course has been for him. Thanks to a partial scholarship from a private donor, he was able to make the arduous journey and get the time away from work and school, and says he couldn't wait to receive training from "the best institution in conservation economics". I crack a smile as he says that and he asks me if I like working with CSF, breaking up my stream of interview questions directed at him. "I love it!" I reply, any exhaustion I may have had fading away. It's during interactions like these that we are reminded why we work so hard, and how important it is to secure scholarship funding for people like Rushi working on the front lines of conservation.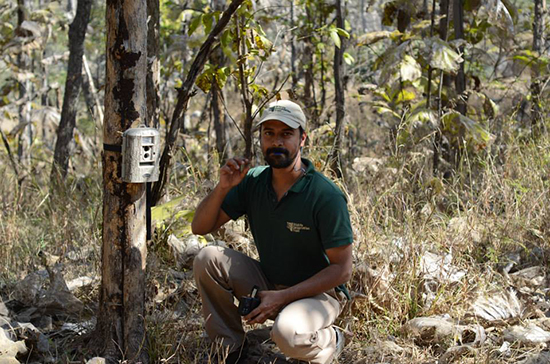 Rushikesh Chavan, in the field. Photo courtesy of Vishal Bansod
Rushi works for WCT, an organization that works to help protect India's biodiversity and threatened wildlife habitats and uplift marginalized communities. He works on programs that help communities ensure health, food, water security and wellbeing in the context of the conservation of India's tiger-bearing forests and rivers. His work spans over 110 national parks and sanctuaries across 19 states of India, covering 75% of tiger reserves and 15% of approximately 670 protected areas.
He is a big-picture thinker, and most of his work comes down to determining the best strategy to achieve WCT's goals of lasting conservation. "Taking this course is critical for me, because I've never formally studied economics in my life!" He laughs. "In my job, I need to analyze common pool resources and conduct cost-benefit analyses, though I just didn't know it before taking this course. When I looked at government policies before the training, I believed change could only be accomplished through traditional conservationist strategies, like banning activities harmful to the environment and wildlife. I knew that this was not working. I needed to add new dimensions to my skillset to make the shift from being a conventional conservationist to being a more effective, innovative conservationist."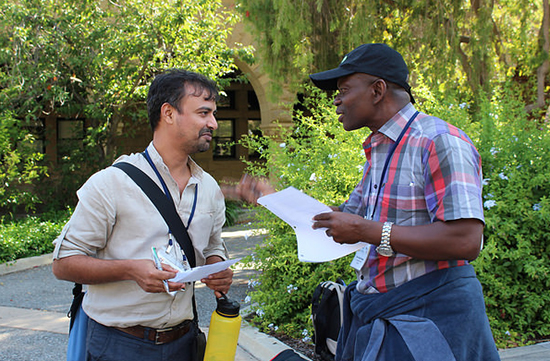 Rushikesh Chavan at CSF's International Economic Tools for Conservation course at
Stanford University
When I asked him what stood out to him as the most valuable part of the course, he was stumped for a while, saying he couldn't choose just one. Finally, he said "Now I have the understanding and the language to speak; but not just speak. One can speak beautifully about improving strategies with economics, but now I can explain why we need to use economics instead of traditional strategies, and then justify my strategy with sound economic science backing it up."
Another one of the most critical things he's gained over his time at the course is the basic foundation of economics. "You can build a beautiful palace, but if your foundation is not strong enough, the building will fall," I nod my head vehemently, and ask him to hold on so I can get that sentence down.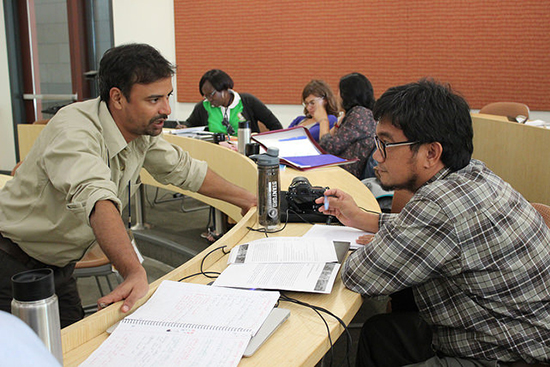 Rushikesh Chavan at CSF's International Economic Tools for Conservation course at
Stanford University
"I now understand what microeconomics is all about, what are taxes, how do you internalize negative externalities and account for positive externalities, all the while staying objective." Speaking of which, a positive externality of the course, he notes, was the incredible opportunity for global networking. He met great people with whom he definitely plans to stay in touch. He wants to tap into their wealth of knowledge, as he "doesn't want to waste time reinventing the wheel." For example, he was thrilled that one of his fellow course participants enabled him to speak with Jane Goodall via Skype earlier that day. Another course participant he met works with alternative fuel, and he plans to follow up with her to discuss how to help decrease forest degradation in India, a huge problem often arising out of the simple need to heat homes and cook food.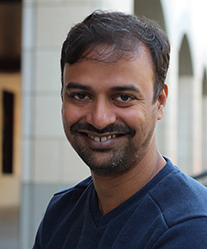 Since returning home, Rushi has taken steps to begin a Conservation Economics division at WCT. He has had this idea for over a year but taking CSF's course became the catalyst to finally make it happen. He envisions that the department will evaluate development projects, such as dams and mines, as well as find solutions for the problems associated with the tragedy of the commons. In addition, his work with human-wildlife conflicts may be able to benefit from economic techniques he learned at the course. After receiving permission from WCT's president, he is in the process of recruiting two economists to join his team. He sees the connection formed with CSF staff as critical to his expansion of the conservation economics division at WCT. "If I have things my way, soon we'll have a CSF chapter in India!" He said the course also inspired him to get as much as he can out of his current Master's program in Economics at the University of Mumbai.
Rushi was just one of the many incredible course participants I was able to sit down with at August's course at Stanford. Stay tuned for the next "Alumni Spotlight" where you'll get an inside scoop on how CSF's economic tools have now traveled to Cameroon to help conserve great apes in the context of Africa's growing palm oil market, incorporating lessons learned from Asia.