2021 - 2022 MFP Cohort Prepares for Research Presentations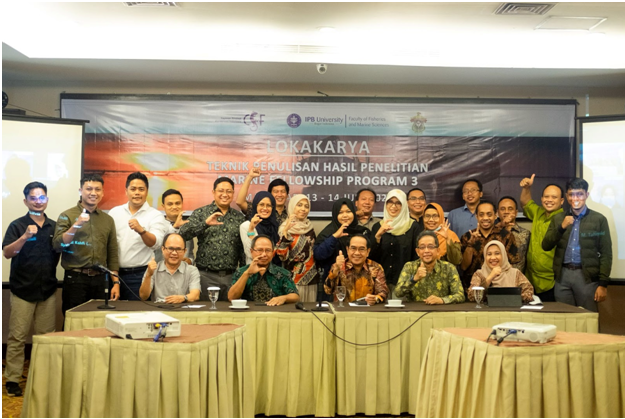 Final Workshop Participants and The Rector of Hasanuddin University, Prof. Dr. Ir. Jamaluddin Jompa, M.Sc. Photo by: Hasan Adha Fauzi 
Marine Fellowship Program (MFP) is one of our capacity-building flagship programs in Indonesia. We selected applicants through a rigorous selection process from graduate students, researchers, academics, analysts, and practitioners in applied economic research on fisheries and marine conservation policy and management. The selected applicants will receive technical supervision in economic theory, applied economics in fisheries, environmental economic analysis, and environmental conservation and natural resources management by CSF in-house experts and FPIK-IPB University faculty members. The tenure of the fellowship is only one year.
In an ongoing partnership between CSF Indonesia and IPB University, our MFP supports fellows conducting field research in marine conservation and sustainable fisheries management. Marine Fellowship Program partners support 12 fellows by providing financial support and CSF's landmark capacity-building in economic theory, environmental economic analysis, environmental conservation, and natural resource management.
This year's MFP cohort has been preparing research papers within their respective fields of study, and the 12 fellows are preparing to share their results with stakeholders. To support this stage of the process, the Marine Fellowship Program partners led a two-day workshop on 13 - 14 June 2022, in Makassar City, South Sulawesi. 
 The workshop featured sessions such as in-depth discussion, technical writing, publications strategy, infographics design, and writing policy memos and briefs. It is part of the fellowship program to support our fellows' final preparations before their dissemination, with all the fellows from all over Indonesia gathering around and fostering deeper interactions among mentors, fellows, and co-fellows, the workshop provided the opportunity to share and discuss each fellow's research. With more than 20 in-person and online participants, attendees presented their work, prompting in-depth discussions surrounding their research. 
To further improve our fellows' capacity to produce well-communicated research, YSKI added a new session on developing impactful Research Infographics that have been proven to enhance audiences' understanding of the research content. The sessions were productive and helpful for the fellows as they approach their final presentations. This session will enhance our fellows' capacity in delivering an important message from their research to the general public and policymakers through a simple and elaborate method of infographics. One of the challenges our previous fellows had in their research was none other than to communicate it to the public and policymakers. With this session, we believe that our fellows will uplift and improve their end product to be more impactful.
"This workshop helped me a lot, as we have an in-depth discussion with our mentors and co-fellows to improve our paper, all the questions we have are able to be answered by our mentors which help us a lot in this final stage of technical writing," Wellem Anselmus Teniwut said.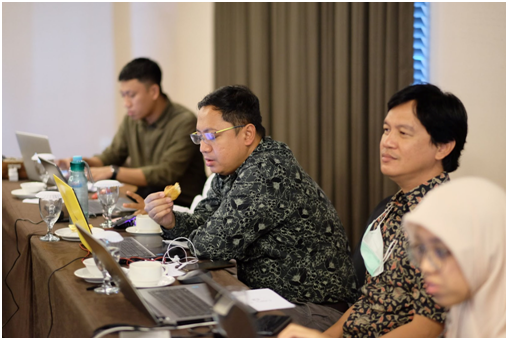 The Workshop Participants Dr. Nur Fadli, S.Pi., M.Sc, and Irkhamiawan Ma'ruf. Photo by Hasan Adha Fauzi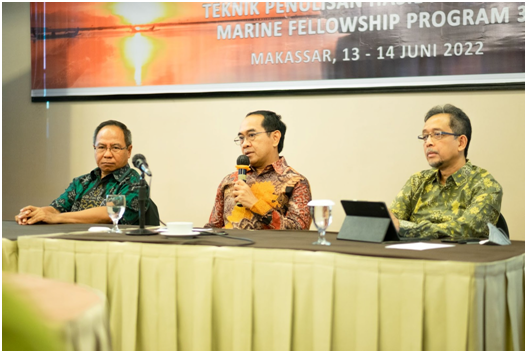 From Left-Right: Dr. Mubariq Ahmad, Prof. Dr. Ir. Jamaluddin Jompa, M.Sc., and Dr. Ir. Luky Adrianto, M.Sc giving opening remarks. Photo by: Hasan Adha Fauzi
In August-September 2022, our MFP fellows will share their completed research papers with the local stakeholders. In order to support and leverage our fellows' work, a YSKI representative will attend each presentation. We truly believe that our fellows' research will incite significant changes, and cultivate a better future for Indonesia's Marine and Fisheries industries.
This Marine Fellowship Program is made possible with the generous support from the David and Lucile Packard Foundation.