Analysis
Conservation Strategy Fund helps local conservationists use economic tools to find smart, efficient solutions to the most urgent environmental problems. Since its creation in 1998, CSF has conducted dozens of analysis projects in forests, rivers and coastal environments. Most of our work has focused in the tropics, where extraordinarily high levels of biological diversity are found. To maximize the reach and quality of our work, we involve leading experts and conservation organizations in all of our projects.
Supporting the territorial management of a conservation unit in the Brazilian Amazon
CSF-Brazil - in partnership with the Brazilian Agricultural Research Agency of Amapá (EMBRAPA-AP), the Brazilian Environment Ministry (MMA) and the German Cooperation Agency in Brazil (GIZ) - has completed a study addressing the relationship between Ecosystem Services (ESs) and the development of extractive products value chains focused on the Environmental Protection Area of the Fazendinha (Fazendinha APA) located in southern Macapá municipality, Amapá state (AM), Brazil. We identified valuable information to support the APA's future Management Plan. Overall, the study aims to promote sustainable livelihoods in the Brazilian Amazon.
The Fazendinha APA is a Conservation Unit (CU) that was created in 2004 to reconcile the needs of the local population, environmental protection and the development of economic activities through the sustainable use of its natural resources. This area is nearly 137 hectares and the CU has potential for the development of a number of sustainable socio-economic activities, such as community-based ecotourism, and the production and commercialization of vegetable oils and açaí fruit. However, the APA does not have a management plan in place and these productive activities - which depend on the provision of ESs - are being carried out without accounting for ecosystems' capacity to support them. Furthermore, this CU suffers high pressure from being in an urban area, as several residences without sanitation, commercial enterprises and a port are located inside it and a highway is close by.
To help address these issues, CSF-Brazil conducted a study to: 1) analyze these pressures on ecosystems and how these endanger the provision of ESs and the intended economic activities; and 2) evaluate priority investments for the development of value chains and the management of the ecosystems.
To do so, we conducted a literature review, interviews with key stakeholders and a workshop with representatives of local communities, local government (such as the tourism secretariat) and research institutions to discuss the theme of ESs and value chains in Fazendinha APA.
We provided an evaluation of the priority investments for strengthening ecotourism and extractivism (açaí and andiroba fruits value chains) in the Fazendinha APA. One of our conclusions is that sanitation adapted to flooded areas and waste management are major bottlenecks for the development of the APA's value chains, that need to be addressed before making investments in infrastructure for tourism and fin extractive products processing, as they negatively affect basic inputs (such as water and scenic beauty).
We presented our results at a workshop in July 2018 in Macapá (AM), which was attended by Amapá's Environment Secretary and the APA's advisors, ensuring that decision makers are well-informed and aware of strategies and priority investments .
This study was conducted with the technical support of the MMA and the EMBRAPA-AP and the financial support of the German Cooperation Agency in Brazil (GIZ) as part of the project "Conservation of Biodiversity through the Integration of Ecosystem Services in Public Policies and Business Performance - TEEB Regional-Local (TEEB R-L)", whose objective is to highlight the benefits that biodiversity and ES promote for society, as well as the increasing costs of its loss or degradation, aiming at a greater integration of the value of the ESs in decision making processes.
Photo: Açaí fruit from the Amazon.
Photo credit: Horacio Lorini.
Click here for more information about our project's steps and on the image below to read our full report (in Portuguese):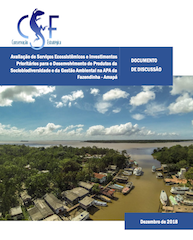 .
Are you interested in doing a project with CSF?
We help NGOs and governments conduct economic analysis of important environmental issues, such as costs and benefits of infrastructure development and valuing protected areas and environmental services. If you have existing funding for economic analysis, or would like to explore creating a joint proposal, please contact us.