News
Training for Fisheries Policy Makers in Indonesia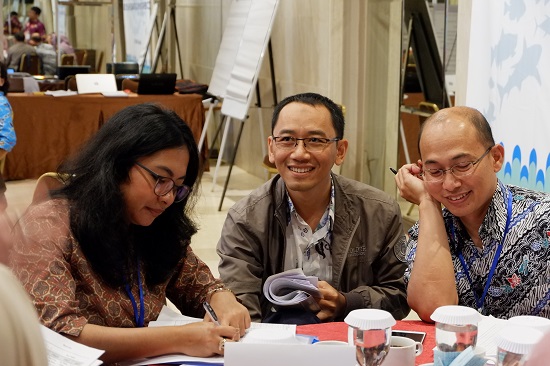 Some of the enthusiastic participants in the workshop
In Indonesia, human and development activities have a significant impact on marine ecosystems and the health of fisheries - one of the most important industries in the country. Economic solutions to these issues are often overlooked, though can be among the most effective. To address this, CSF-Indonesia is seeking to empower policy makers in the Indonesian Ministry of Marine Affairs and Fisheries (MMAF) with specific economic tools and knowledge to support them in formulating policies to conserve and sustainably manage marine resources.
With the support from the Research Center for Socio-Economics of Marine Affairs and Fisheries of the Agency for Marine & Fisheries Research and Human Resources (BBRSEKP), CSF facilitated a five-day workshop in the city of Bandung, West Java in March 2018. Twenty-seven participants from different technical roles across various departments at MMAF attended. The majority of the participants had no background in economics and consequently, the workshop proved to be a catalyst for them in rejuvenating their commitment to effectively manage the nation's marine resources.
We worked closely with ten instructors to develop the workshop materials. The instructors came from various Indonesian and international institutions such as Bogor Agricultural University, University of Hawai'i, MMAF, United States Agency for International Development (USAID), and CSF. The workshop covered fisheries bioeconomics, regulatory tools in fisheries, economic instruments in co-management, conservation finance, marine resource valuation, as well as cost-benefit analysis of marine resources. Kim Bonine, CSF's Training Director, led a harvest game simulation exercise. This fun experimental game showed everyone how they might actually behave if they had to catch fish for a living.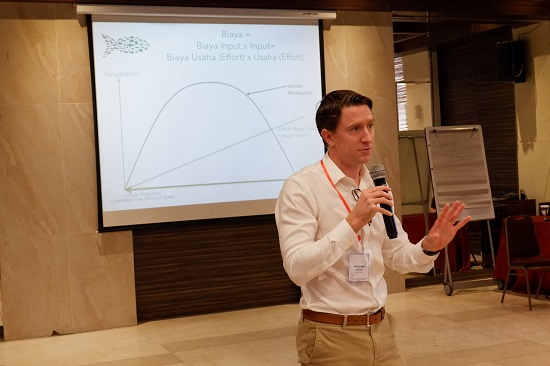 CSF Instructor John Lynham, from University of Hawai'i at Manoa, explaining fisheries economics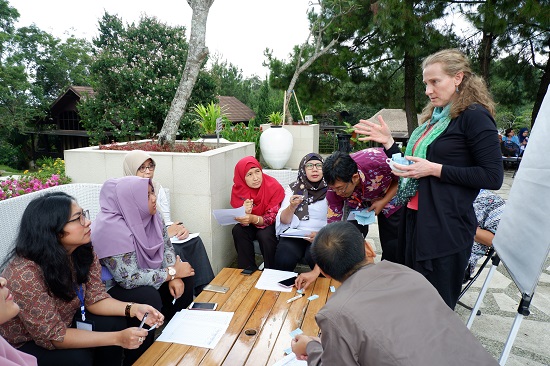 Kim Bonine explains the Harvest Game
In addition, CSF also introduced its brand new fisheries co-management negotiation game, adapted from a forest game developed by CSF founder John Reid. In this game, participants split into three different groups: the fishing industry association, environmentalists, and indigenous people whose marine territory is often occupied by commercial fishing vessels. The goal of the game was for all three parties to come to an agreement on a proposal for co-management of the fishery for the central government. With the help of props and costumes, participants enthusiastically took part in the game, and acted as if they were the real businessmen, fishers and NGO workers.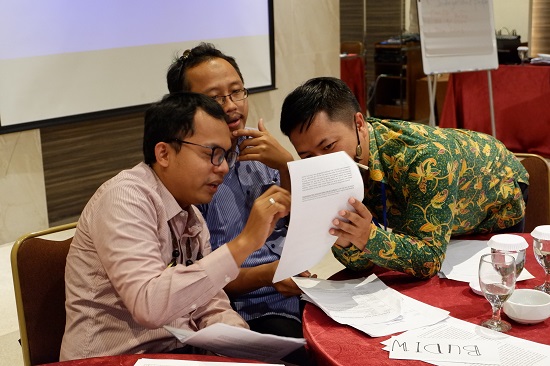 The 'indigenous people' having an internal discussion

A successful co-management proposal among the three parties
Post-course assessments demonstrated the overall success of the training - with pre-test scores at an average of 47.6% compared to post-test scores at an average of 94.7%. Furthermore, the level of satisfaction among participant can be clearly seen based on how they ranked the quality of the materials delivered. An average of 4.3 (on a scale of 5) was scored based on several parameters including timing, delivery structure and instructor teaching ability.. For example, one session by John Lynham was particularly popular among participants, namely "Regulatory Approaches to Fisheries Management" and had a score of 4.5. As a follow-up, the BBRSEKP plan to have bi-monthly meetings across departments on current fisheries and marine resource management issues, and they have asked CSF-Indonesia to be involved.
Participant Feedback: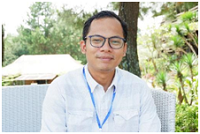 "As a person who is responsible in managing various issues in fisheries directly to the Minister, I feel that most, if not all, the activities in the marine area are driven by economic purposes. That is why this training is an invaluable investment for us to better identify and look for solution regarding our marine resources management in Indonesia."
Iqbal Gultom, Minister's Delivery Unit, Planning Bureau, Ministry of Marine Affairs and Fisheries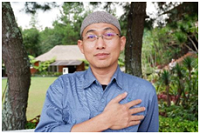 "The materials presented in this workshop are very relevant to what I am doing in the office. The tools that were taught are very useful as well as practical for us in determining what kind of policy we have to formulate regarding the capture fisheries management in the country."
Hary Christijanto, Head of Policy, Organization and Cooperation Division, Secretariat of Directorate General of Capture Fisheries, Ministry of Marine Affairs and Fisheries
All photo credits: Imanda Pradana