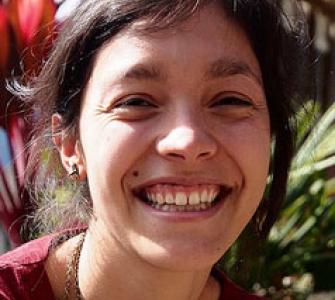 Paula Andrea Zuluaga
Colombia
Paula has been selected for technical support proposed by Conservation Strategy Fund (CSF) and within the framework of the Scholars Program of the Initiative for Conservation in the Andean Amazon (ICAA), a program of the United States Agency for International Development (USAID).
Fisheries in the Amazon are a fundamental element of life in communities, not only because they guarantee food security but because of their cultural and traditional importance. This is the case of the indigenous communities of the "Inirida Fluvial Star" (IFS), in the Department of Guania, Colombia, where fisheries are a source of both food and income, given the commercial value of ornamental fish species in the area. The importance of its fisheries, the singularity of its ecosystems, and the existing threats to its sustainability have motivated the protection and conservation of the IFS.
WWF Colombia and the National Authority of Aquaculture and Fishing (AUNAP) recently signed a Memorandum of Understanding (MoU) to support the development and formalization of fisheries management agreements among the IFS communities. This investigation is framed on this WWF-AUNAP MoU, and aims to study the behavior of IFS fishermen under different institutional arrangements that could be included in formal fisheries management plans.
To do so, Paula and her team will use experimental economics, participatory methodologies and an agents-based model. Paula is an ecologist with experience in natural resource management within rural communities.
She has experience using quantitative and qualitative methodologies, such as experimental economics, surveys, interviews, systems dynamic modeling, agents modeling and participatory methodologies. She has specific expertise in identifying socio-ecological conflicts, supporting the process of developing fisheries agreements, and in conducting studies about water use and management in rural communities in Colombia.