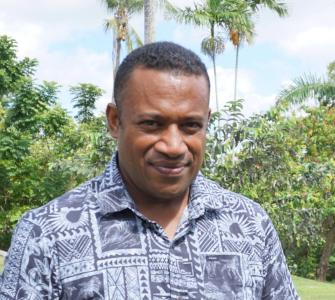 Obed Timakata is the Operations Manager for the private company Timakata & Associates in Vanuatu. Timakata & Associates established the first Marine Protected Area (MPA) on Emae Island in 2004; as a result, there are now seven Marine Protected Areas surrounding the island, all implemented by local fishing communities that recognized the benefits of the first MPA. Timakata and his partners have now undertaken the ambitious project of establishing the world's first organically-certified island to encourage sustainability from ridge to reef, including agro-ecological farming, a chemical-free tourism industry, and a network of conservation areas and marine life sanctuaries. Obed holds a diploma in Business Studies from the Auckland University of Technology in New Zealand and is working towards a Bachelor's Degree in Accounting and Economics from the University of the South Pacific.



Timakata has conducted extensive work on economic diversification strategies for conservation of Vanuatu's marine ecosystems, hatcheries, and sanctuaries, specifically related to sea cucumber harvesting and management. In particular, Timakata led a project to re-establish a viable sea cucumber fishery in Emae Island, Vanuatu. The project's objective was to map critical habitats for local marine life and create marine life sanctuaries that could be managed ethically and sustainably, especially relating to tourism in the region. In addition, the project assessed economically valuable marine resources, which have an ecological role in maintaining a healthy ocean and can be used as superfoods and nutraceuticals. Finally, the project sought to create a conservation platform and website, where users could be educated on the the protection of commercially threatened marine species, sustainable fisheries, and ocean conservation financing mechanisms.



Timakata has also conducted research on the overfishing of sea cucumber stocks worldwide, which has increased the need for sustainable management of fisheries to support the growing industry. Establishing a medium to long-term plan to set up a diversified Conservation Trust Fund, Timakata's project seeks to provide grants for endangered wildlife protection, biodiversity conservation areas, and seed impact investment for conservation enterprises. The project will also provide long-term reliable support for biodiversity research and conservation of biological diversity, thus ensuring the sustainable use of natural resources for climate change mitigation and medicinal research for prevailing health conditions. Through this work, Timakata and his partners hope to aid the communities on the Emae and Shepherd Islands in improving financial incentives for protecting regional biodiversity.