Training the California Department of Fish and Wildlife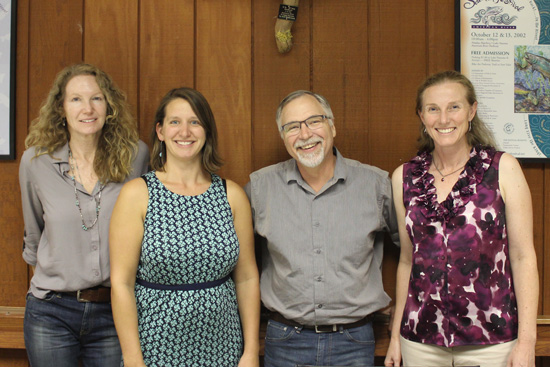 Course coordinators Margaret Duncan, Niki Gribi, Craig Martz, and Kim Bonine.
CSF traveled to Sacramento, CA in October to lead a three-day training for the California Department of Fish and Wildlife (CDFW). Participants included 28 members of the CDFW staff, and 6 members of the California Fish and Game Commission (FGC). We were able to reach 16 staff in field offices across California using remote access technology and our online workspace.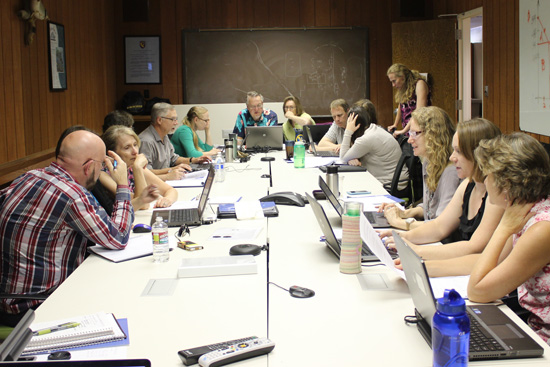 Participants working on an exercise in class.
The three-day course was intensive and covered the fundamental concepts of microeconomics and natural resource economics, as well as ecosystem services and environmental valuation. CSF staff presented the results of the abalone fishery valuation analysis we conducted in partnership with CDFW, and participants practiced using the concepts and material from the previous sessions in the final module: cost-benefit analysis (CBA). CSF's signature blend of theoretical lectures from experts and hands-on exercises generated positive feedback from participants:
"Your coverage of the key concepts and methods is remarkably thorough, clear, and easy to follow."
"The CBA training was incredibly valuable and will prove most useful."
"The CBA training is applicable to many decisions, and I have a better idea of what data should be collected to inform decisions."
"I would love to see this program available to elected officials."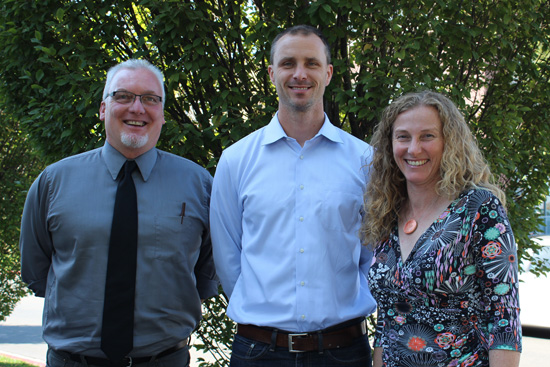 Course instructors Steve Hackett, Merlin Hanauer, and Kim Bonine.
We closed the course with a brainstorming session, generating ideas about how CDFW could use these concepts in their work. Some interesting questions were raised:
How do we resolve the disconnect between our mandate of ecosystem protection and regulations based on single species?
What are the costs and benefits of the lead ammunition ban for Condors, ammunition dealers, hunters, etc.? Can we quantify them?
What is the best practice for conducting ex-post evaluations of regulations and interventions like the lead ammunition ban?
What are the costs and benefits of keeping Marine Protected Areas (MPAs) closed to fishing? Are there spillover effects?
How should we set a quota for the herring fishery?
How do we show the value of a sustainably managed fishery?
Can we set a value on the possibility of seeing wildlife in the future?
How can we manage abundance in charismatic mega-fauna like bears, which people are reluctant to hunt? What kind of incentives can we use?
Over the next few months, we will be offering another training course for CDFW in economic impact analysis, supporting improvement in their ongoing data collection and analysis efforts, and exploring ways we can collaborate to address some of the important natural resource management challenges in California.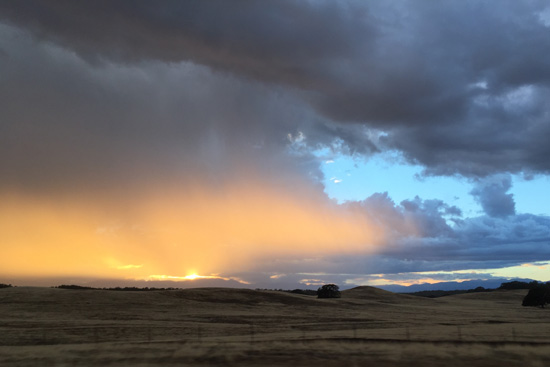 Beautiful Sacramento sunset.
Our instructor team for this course included Merlin Hanauer from Sonoma State University, Steven Hackett from Humboldt State University, Mike Springborn from UC Davis, CSF President John Reid, and CSF Training Director Kim Bonine. We were pleased to partner with Margaret Duncan and Craig Martz from CDFW, and we thank Resources Legacy Fund for their generous financial support.