Sintang's Focus Group Discussion on The Revision of The General Investment Plan Towards The Green Initiative 2030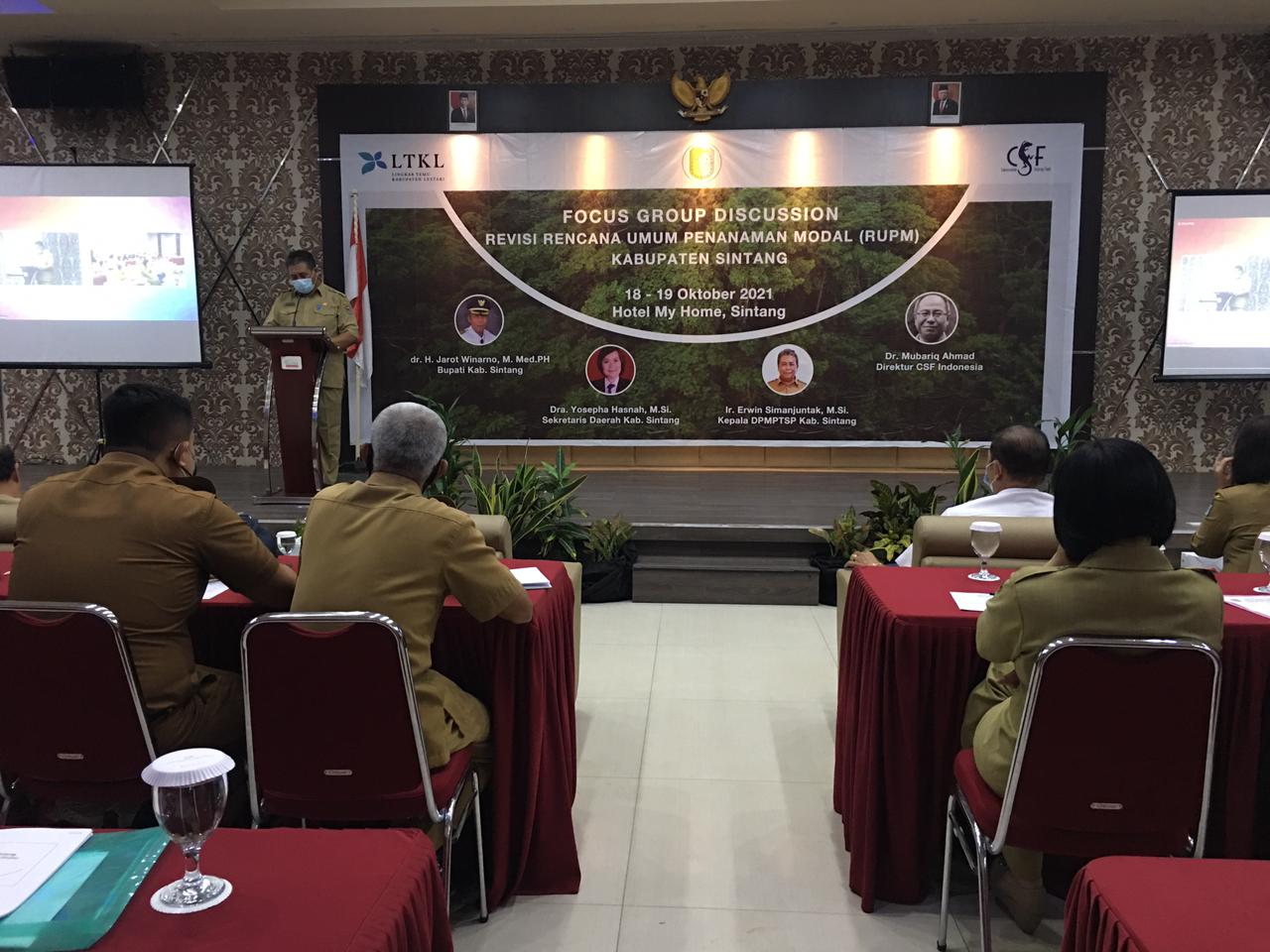 As part of Conservation Strategy Fund's commitment to sustainable development, CSF Indonesia is partnering with the Sintang Government to execute their vision of "Sintang Lestari," or Green Sintang. Together, they developed a series of multi-stakeholder discussions for the Green Sintang Initiative 2030 in 2018. 
Now in October of this year, the Sintang government held a two-day Focus Group Discussion (FGD) on the Revision of the Sintang General Investment Plan, collaborating with CSF Indonesia, the Sintang One-Stop Integrated Services and Investment Agency (DPMPTSP), the Sustainable District Association (LTKL), and the Sintang Civil Society Communications Forum (FKMS). This FGD marked another milestone of Green Sintang Phase 2, which officially launched in October 2019
More than 30 participants attended the FGD. Given COVID-19 restrictions and health protocols, the FDG was held in a hybrid format: Sintang Government employees and their stakeholders attended in a certified CHSE venue while speakers joined online via Zoom. The participants were also divided into two groups guided by facilitators from local CSOs to discuss the socio-economic and environmental contributions of investment in Sintang. 
"The FGD [is] a platform for guided discussions that will [provide] input towards the General Investment Plan academic manuscript, and is expected to produce information on the policy directions, priorities, and the Strengths, Weaknesses, Opportunities, and Threats (SWOT) of capital investment in Sintang," said Ir. Erwin Simanjuntak, Head of Sintang's DPMPTSP in his opening remarks. Involving stakeholders such as DPMPTSP, LTKL, and FKMS has played a massive role in helping the Sintang Government toward implementing the Green Initiative 2030.
This important collaborative project between CSF-Indonesia and the Sintang government will continue facilitating these discussions over the next several years. Sharing, discussing, and identifying issues of investment in Sintang will be the basis for writing policy directions. Hopefully, these FGD sessions will be able to create impactful changes for the participants onward. Stay tuned for more updates on this long-term policy engagement.

This collaboration was made possible by The David and Lucile Packard Foundation.