Integrating landscape modeling into sustainable development planning in Sintang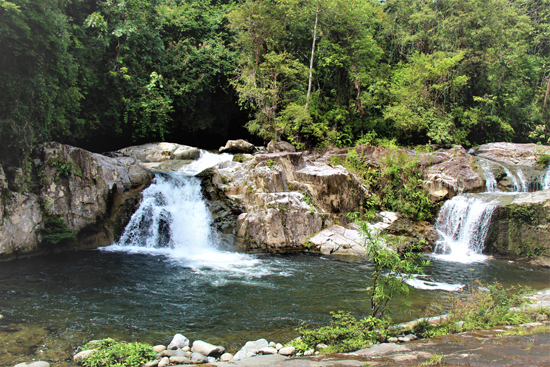 Sintarum waterfalls in Sintang. Photo credit: CSF
CSF-Indonesia is continuing to work with the government of Sintang to integrate sustainability principles into development planning. From January 15-18, we conducted a workshop on sustainable landscape modeling, building directly on the scenario planning workshop we held in October.
Before the training workshop, the CSF-Indonesia team visited a Bupati Pendopo (official house) to meet with leaders in the Sintang government and discuss strategies to integrate the vision from the scenario planning process into the ongoing development planning for the region. Those involved in the scenario planning process agreed on a vision of Green Sintang (Sintang Lestari) in 2030: "to achieve a Sintang where the people are secure and lead prosperous, harmonious, and dignified lives full of religion and innovation. The people of Sintang are supported by a sustainably managed natural resource base and well-designed infrastructure."
The Regent opened the workshop by stating that the vision and roadmap of Sintang Lestari 2030, as developed in the scenario planning process, are useful for guiding development planning towards sustainability. In response, the government stakeholders of land-based activities demonstrated how their programs synchronized with the Sintang Lestari vision. For example, the Department of Agriculture and Plantations committed to improving agriculture and plantation productivity without land expansion by diversifying sustainable commodities, using cluster-based agricultural development, and establishing one main commodity for each sub-district.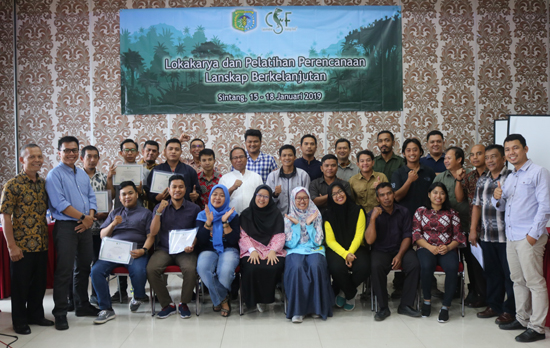 Participants in the landscape modelling training. Photo credit: Sopian Hidayat
On the third day of the workshop, 30 people from land-based planning programs in government and non-government agencies participated in a landscape modeling training. Participants learned the basic concepts of land change modeling, including the tools and the analysis methods. They had an opportunity to simulate their own model, using TerrSet software, to predict the future condition of land based on trends from the past ten years. These techniques will allow them to predict what may happen to their land by 2030.
At our next workshop in February, the same participants will have the opportunity to simulate a spatial model of Sintang Lestari using real data that will affect land changes in 2030. Stay tuned for further updates!