Conserving Critical Mangrove Habitat in Brazil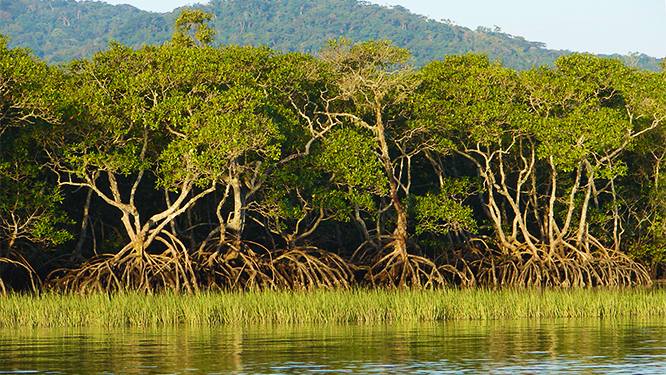 In partnership with GIZ, The Deutsche Gesellschaft für Internationale Zusammenarbeit GmbH, Conservation Strategy Fund (CSF) held a virtual and online course on the design and implementation of economic tools to support the conservation of critical mangrove habitat across Brazil. Held over the first week of May, the five-day course, Economic Tools for the Management of Mangrove Habitat, focused on training 20 technical staff from the state governments of Pernambuco, Alagoas, Bahia, and Espírito Santo. 
The course aimed to build capacity and institutional knowledge surrounding the sustainable design and management of mangrove habitat using key economic tools and concepts. Targeting public managers from key states across Brazil, CSF and its partners provided participants with an introduction to economic analysis and an overview of how to design mangrove conservation projects within the context of each participating state.
Over the course of the training, participants discussed the value of ecosystem services and the impact of the destruction of critical habitats on local communities and the economy. In addition, participants learned how management and regulation measures can correct market failures and maximize environmental benefits, the relationship between market failures and property rights, and how economic analysis, including cost-benefit analysis and economic valuation, can advance better environmental planning and management. 
"Conserving coastal and marine biodiversity in Brazil is critical to our efforts to combat climate change, and protect essential biodiversity now, and for generations to come," says CSF 's Brazil Director Pedro Gasparinetti. "With the support of our partners at GIZ, this training made it possible for state representatives to identify and design new measures to protect essential mangrove habitat in their communities. I'm hopeful that their participation will lead to better conservation policies in the region."
Using what they learned throughout the course, participants then sought to develop ideas for potential projects by identifying strategic conservation areas and analyzing the environmental costs and benefits, including the associated costs of monitoring and implementation, emissions estimates, financial gaps, and using REDD+ methodology to guide protection efforts in perpetuity. 
For more information on the course, please visit the course page here.