Conservationists from around the world gather at UC Berkeley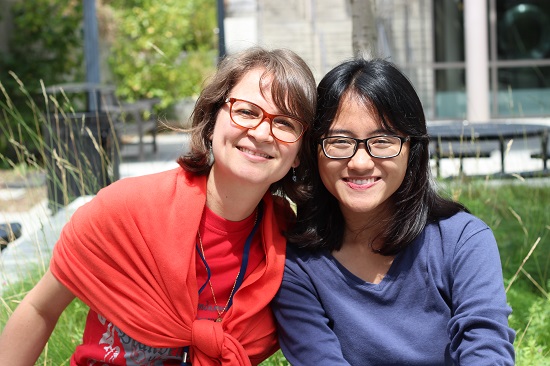 Participants Ximena Villagrán from Guatemala and Rianti Pangastuti from Indonesia enjoying the sunshine during a class break
In June, CSF hosted our 19th annual International Economic Tools for Conservation course at the University of California Berkeley. Together with the College of Natural Resources' International and Executive Programs (IEP), we hosted 33 conservation professionals working in 20 different countries for organizations including Conservation International, USAID, World Wildlife Fund, The Nature Conservancy, UN Environment, the US National Park Service and the Waitt Foundation.
This two-week course is designed to equip environmental professionals with the economic tools, knowledge and skills to be more strategic and successful in their work, and experience a transformational shift in how they view environmental issues. Participants live together on campus, developing a close professional network and lifelong friends.
"I got exactly what I hoped for - a better understanding of economics and how we can apply this knowledge to conservation and social justice goals." -Denise Louie, National Park Service, USA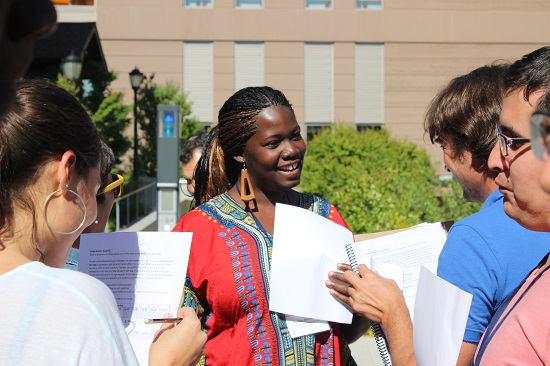 Eunike Misiekaba from Conservation International- Suriname participating in an experimental game during the course.
David Johnson, from the University of Wisconsin-Madison, taught the first session on Microeconomics. David is unlike any economics professor you've ever met. He literally jumps and yells enthusiastically throughout his lecture, making it impossible to fall asleep during his class. David presented a semester's worth of material in two-and-a-half days and laid the foundation for the rest of the course.
After making it through the intensity of David's session, participants were rewarded with a trip to the gorgeous University of California Botanical Garden, complete with docent-led tours. At the end, one docent said that we were her favorite group she had ever guided. This accolade must be at least partially credited to Jürgen Hoth from Conservation International-Mexico and his abundant knowledge of Mexican plants.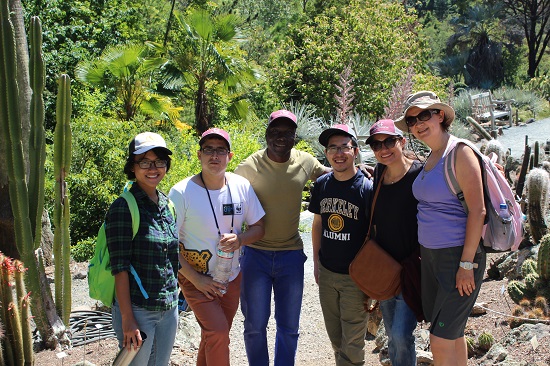 Enjoying the cactus area at University of California Botanical Garden
"This course provided an important framework for bringing economic analysis into my work on environmental issues in Colombia. At the end of the day, it is on these economic terms that most, if not all, policy decisions are made. But the best part of the course was the great group of international professionals that bring their real world, country specific experience into the course. I highly recommend this course to anyone working on environmental and/or development issues internationally." -Todd Hamner, USAID, Colombia
On days four and five, participants were back to work with John Lynham from the University of Hawai'i-Manoa. With his subtle Irish accent, stories from around the world, and singular talent for making complex information digestible, John's Natural Resource Economics session was the most popular one in the course.
On Saturday (that's right, there is class on Saturday!), participants spent a day learning about environmental policy from one of UC Berkeley's own- David Roland-Holst, as well as experiencing for themselves how difficult multilateral environmental negotiations can be.
"I have always thought that economics and conservation were opposites in a certain way, but now I have acknowledged the utility and importance of applying this science in my job, as it could improve the efficiency and benefits of our interventions regarding our restricted resources." -Sandra Chiri, National Program for Forest Conservation, Peru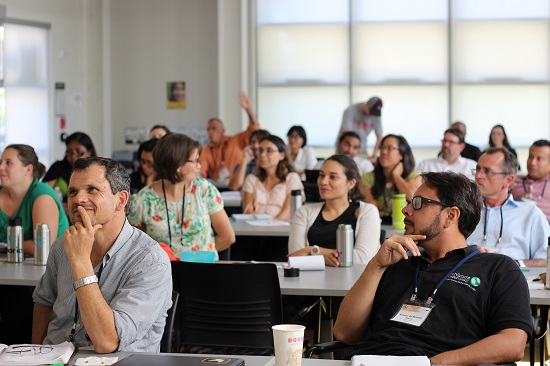 In the classroom at the Blum Center for Developing Economies
Sunday was the one and only day off during the course, and participants made the most of it. Many spent the day exploring San Francisco and enjoying all it has to offer- including the Golden Gate Bridge, its sprawling Chinatown, Baker Beach, Fisherman's Wharf and even the San Francisco Pride Parade which by chance coincided with our day off.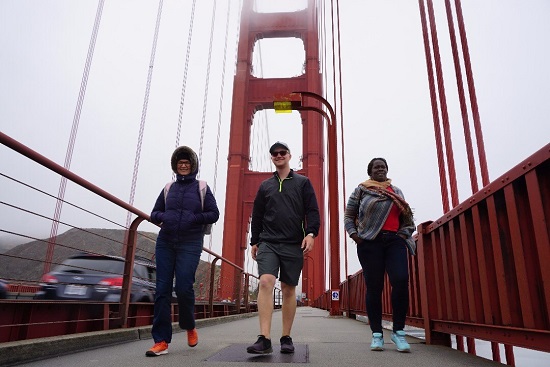 Participants at the Golden Gate Bridge. Photo credit: Desta Pratama
The second week of the course kicked off with two days of Valuation taught by CSF Economist Rhona Barr, where participants learned different methods to incorporate ecosystem services into economic and financial studies.
Up last was CSF Training Director Kim Bonine, who taught Cost-Benefit Analysis. A favorite session among participants, participants worked in teams to prepare presentations for the last day discussing the costs and benefits of a building a fictional dam, based on real data from an analysis conducted by CSF.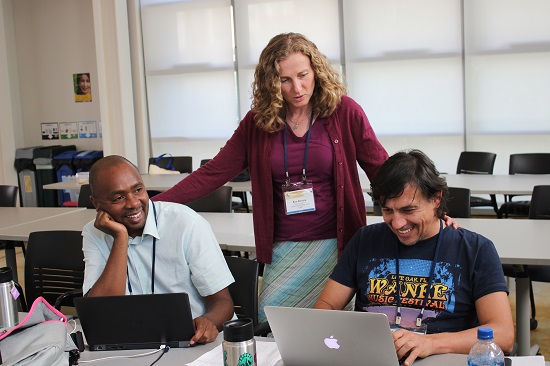 Kim Bonine with Amos Thiongo from Kenya and Alejandro Roselli from Colombia
"I will certainly be using the CBA methodology in my work, especially while undertaking feasibility analysis for community projects. The tools learned in this course are of immense value to my work." -Amos Thiongo, Conservation International, Kenya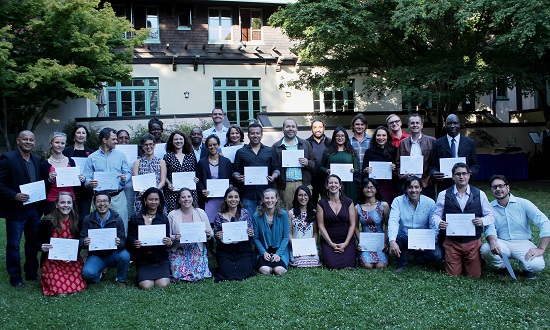 2017 International Course graduates
On the last night of the course, participants enjoyed a graduation party which began with a CSF-style ceremony in which participants present the course certificates to one another. After dinner, when the band started playing, everyone was on their feet dancing with new friends from all over the world. It became apparent, as it does every year, that this course is about much more than economics.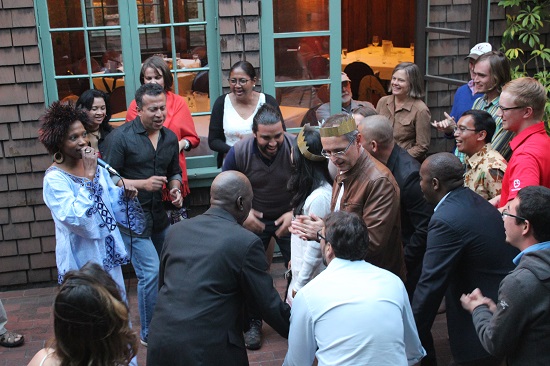 Participants enjoying the live music at the graduation celebration
A special thanks to Niki Gribi, CSF's Training Program Coordinator, who worked non-stop for weeks and is an incredible sport. Also thanks to Stephen Steiner for being an outstanding volunteer and a lot of fun.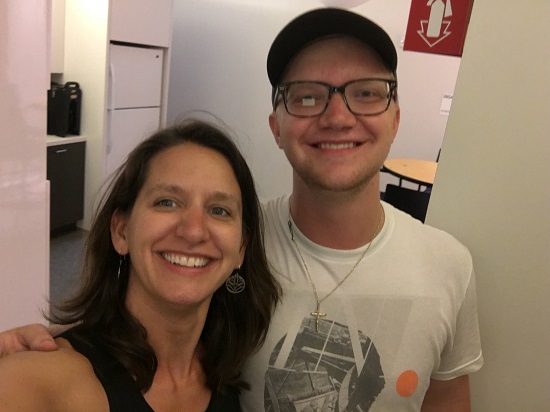 Niki and Stephen working hard