Brazil's Fernando de Noronha Park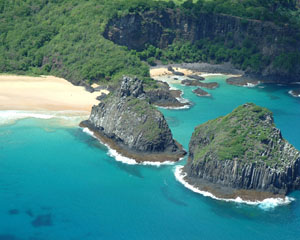 From Acadia to Zion, Big Bend to Yosemite, U.S. citizens take them for granted: signs and stairs, benches and bathrooms. Invisible as it may be, infrastructure is key to a park's value proposition. Visitors willingly pay for a park experience that includes beauty, awe, and a few safeguards and conveniences. And people will defend what they love, which is why we wanted to help them get to know, and love, the Fernando de Noronha National Marine Park.
Fernando de Noronha is an archipelago of 21 islands off the country's northeastern coast where Brazil stretches to within two time zones of Africa. Until recently it was a staggeringly beautiful park with a surreal problem: like many Brazilian parks, Noronha received too few people. The country's parks are all short on infrastructure. Without mundane conveniences like parking lots and guides, Brazilians opted not to spend their money on nature.
CSF's Leonardo Fleck helped change that. Working with Brazil's park service and the United States Forest Service, in 2010 Fleck developed a financial modeling program for concession operators that led to the creation of badly needed infrastructure and services. Among other things, the program helped analyze the financial feasibility of proposed improvements and operations. Could a concessionaire, for instance, make money by offering limited visits to protected beaches? By opening a gift shop?
At Fernando de Noronha, Fleck collected data on services like diving operations and boat trips. He helped the park service prepare to put the concession contracts out to bid and analyze the proposals that came in. In the end the firm awarded Noronha's contract was one that had committed to providing the park with plenty of basic infrastructure. The costs for improved infrastructure were paid in part by the park's first ever entry fee, a change that hasn't discouraged visitation. Since the fee was established in September of 2012, visitor numbers to Noronha are actually up 10 percent.
CSF ran a special training course for park service staff and provided financial analyses for over 20 parks. Fleck believes even greater payoffs for improved amenities are yet to come. "People tend to create attachments to parks," he says. "You come with your kids to be close to nature and to create connection. The next thing you know the children return again and again, not just alone but with their kids and families, too."
---
Since 1998, Conservation Strategy Fund has been committed to making conservation efforts smarter through the use of economics. To celebrate, we're going to be sharing 15 stories of success throughout our history. The above is story #10 on our timeline. To start from the beginning, click here. To continue with the series, read Wild Chocolate