Agreement between CSF and MINAM will promote environmental compensation in Amazonian ecosystems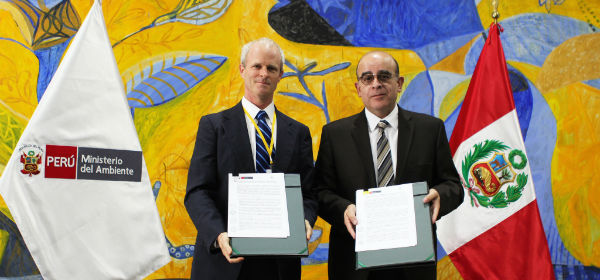 John Reid, CSF President, and Mariano Castro, Deputy Minister of Environmental Management. Photo courtesy of MINAM; http://www.minam.gob.pe
Lima, Peru -- This morning, CSF President John Reid signed an agreement with Peru's Ministry of Environment (MINAM) to continue work on environmental compensation in Amazonian ecosystems. At least two case studies will be conducted.
To learn more, please visit: http://www.minam.gob.pe/notas-de-prensa/convenio-entre-minam-y-csf-permitira-promover-la-compensacion-ambiental-en-ecosistemas-amazonicos/ (in Spanish)
Support for CSF's work on the environmental compensation studies with MINAM is made possible by the Gordon and Betty Moore Foundation.