News
Andean Amazon Fellows Program: 10 Years – 10 Success Stories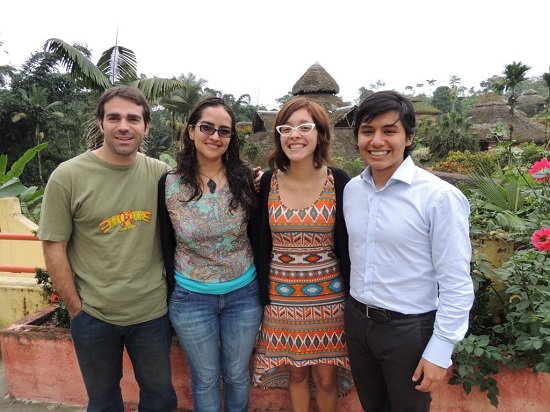 CSF Fellows Fellows Ecuador 2014: Enrique de la Montaña, Viviana Zamora, Paula Zuluaga, and David Campoverde.
For ten years, CSF's Fellowship Program has been developing the talents of emerging economic researchers in the Andes-Amazon region.
The program finds emerging analytical talent and strives to make conservation-oriented research a compelling career opportunity for them. The program produces policy-relevant studies and –more importantly– qualified analysts for the conservation field. The program supported and generated economic capacities in more than thirty professionals, who developed economic studies, related with a variety of topics, which made significant impacts on conservation in the region.
In that sense and inspired by the results achieved, CSF decided to collect 10 stories that reflect anecdotally the experience of 10 Fellows and the impacts that they reached at personal and professional level. Additionally, these stories compilation shows the way in which economic research could generate a positive impact in conservation, in a cost-effective way. This publication was possible thanks to the support of the John D. and Catherine T. MacArthur Foundation.
To download the publication click here. (Publication in Spanish).