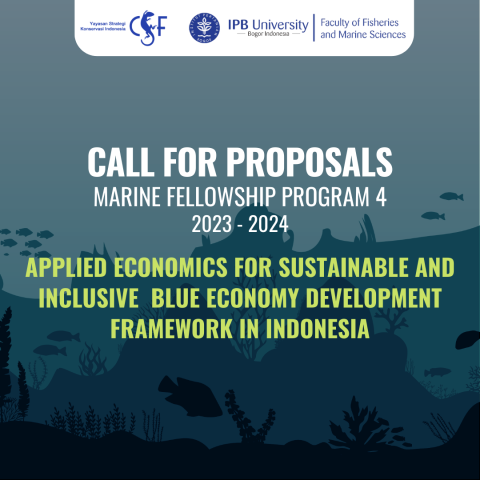 MARINE FELLOWSHIP PROGRAM (MFP) 2023-2024




SELECTED FELLOWS
After a rigorous selection process, we are proud to announce that we have selected our selected 10 fellows for the Fourth Marine Fellowship Program (MFP) for 2023-2024. We would like to express our gratitude and appreciation to each of the selected fellows. Please see the complete list of fellows and research topics below.
THE FOURTH MARINE FELLOWSHIP PROGRAM FELLOWS:
1. Christy Desta Pratama
"Estimating the Impact of Badan Layanan Umum (BLU) as Financing Policy for Local Marine Protected Areas (MPAs): Exploration of the Synthetic Control Method's Application for MPAs in Indonesia."
2. Traheka Erdyas B
"The Domestic Consumer Role in Supporting the Blue Economy through the Sustainable Seafood Products Consumption."
3. Artika Nanda Magfiroh
"Strengthening TWP Gili Matra Managers through Institutional Economic Development."
4. Nita Rukminasari
"The economic vulnerability of fishing households to climate change in the Spermonde Islands, South Sulawesi."
5. Hatib Abdul Kadir
"Papuan Women's Resilience and Sustainability as Mangrove Fishermen in Sorong Raya, Southwest Papua."
6. Muh. Afdal
"The Impact of Marine Debris (Marine Debris) on the Economic Welfare of Small Scale Fishermen in South Sulawesi."
7. Tikkyrino Kurniawan
"Economic analysis of upstream to downstream Salt Industry."
8. Citra Septiani
"Measuring the effective management of small-scale shark fishery and evaluating the possibility of shark tourism in Sangihe Islands, North Sulawesi: an economic perspective ."
9. Kukuh Eko Prihantoro
"Circular Economy Potential in Handling Fishing Gear (API) Waste in Pekalongan City."
10. Abdullah Habibi
"Comparing the ecological and economic impacts of several allowable catch models on Indonesian fisheries management: A case study of demersal fisheries in the Java Sea."
Congratulations and good luck to all the selected participants!
Applied Economics for Sustainable and Inclusive
Blue Economy Development Framework in Indonesia
Yayasan Strategi Konservasi Indonesia (CSF Indonesia) in collaboration with the Faculty of Fisheries and Marine Sciences (FPIK) IPB University is pleased to announce our 4th Marine Fellowship Program (2023-2024). The fellowship program covers research funds, economic training, and research mentorship. We invite graduate students, researchers, academics, analysts, and practitioners to submit project proposals in applied economic research for a sustainable and inclusive blue economy development framework in Indonesia. Ten fellows will be selected from the pool of applicants, and the tenure ship is only for 10 months.
This fellowship is made possible by generous support from the David and Lucile Packard Foundation.
SELECTION PROCESS
Research proposals should focus on the issues of sustainable and inclusive blue economy implementation and development in Indonesia at the national and sub-national levels of analysis. It is also focused on using economics as the primary tool of analysis. The selection process will prioritize proposals that demonstrate a strong understanding of the critical issue (s) to be addressed within the framework of blue economy implementation and development and technical knowledge of the economic approaches to be used. The ability to provide additional research funding is also desired and has the potential to influence designing, decision-making, and management policies.
RESEARCH THEMES
Sustainable fisheries economics (fisheries management and sustainability, and fisheries governance)
The economic study of sustainable coastal and marine tourism (conservation-based marine tourism) 
Institutional economics and governance of marine and fisheries
Linkages of regional economic dynamics based on terrestrial, coastal, and marine ecosystems
Aquaculture socioeconomics
Economic analysis of upstream to downstream fisheries (input-production-output-market)
Economic or impact analysis of human-induced changes in marine ecosystems, e.g., climate change impacts on fisheries and marine ecosystems; marine debris impacts on fisheries and marine ecosystems; etc.
FINANCING
The selected proposals will each be funded up to IDR 100,000,000. This amount may be used to cover fieldwork activities, analysis, and data collection, travel costs related to any training or similar activities, and contracting services and fees for researchers (up to 25% of the total budget). Applicants are encouraged to find additional sources of financing to complement this grant.
MENTORING
Technical support will be given by members of the CSF Indonesia and FPIK-IPB team and other experts in environmental/natural resources/fisheries economics, and fisheries and marine sciences. Mentors are selected based on extensive field experience and a deep understanding of the current challenges in fisheries and marine conservation policy and management, and the sustainable blue economy in Indonesia.
Application, Deadline, and Important dates

Applications are due by March 6, 2023
| | |
| --- | --- |
| Fellows Selection Process | Date |
| Call for proposal | January 19, 2023 |
| Deadline of proposal submission | March 6, 2023 |
| Proposal selection processes* | March 7 – 31, 2023 |
| Announcement of selected MFP fellows | April 3 - 5, 2023 |
| Two-week intensive course on economic | May 2 – 12, 2023 |
| MFP research program timeline (start-end) | May 2023 – March 2024 |
*Note: There will be 2 (two) rounds of selection between March 7 - 31, 2023. Applicants selected for each round will be requested to revise their proposal on short notice.
Those who are interested should download and fill out the research proposal form at this link: https://linktr.ee/conservationstrategyfund
The proposal can be written in English or in Bahasa Indonesia and submitted to: indonesi[email protected] before the due date (March 6, 2023).
Please write the email's subject as "Proposal MFP4, 2023-2024".
One representative of each fellowship team will be invited to attend CSF's two-week intensive course on economic theory and its applications in sustainable and inclusive blue economy development which will be held on May 2 – 12, 2023.
For questions and inquiries about the MFP 2023-2024 program, please contact:
[email protected] and visit the CSF website: www.conservation-strategy.org
Only proposals submitted in complete forms that comply with the requirements will be considered.
Apply before March 6, 2023!
Partners
Promote mutual research cooperation and develop scientific capabilities in the fields of marine studies and fisheries sciences in Indonesia. Develop methods & techniques for marine and fisheries resources management, marine and fisheries ecosystems valuation, marine policy and governance, and socio-economic instruments for developing marine and fisheries sectors in the Indonesian Fisheries Management Region.