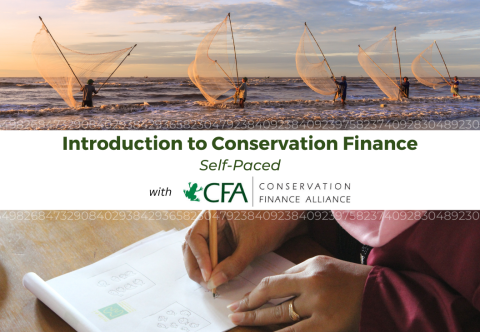 Conservation Strategy Fund has partnered with Conservation Finance Alliance to develop a new, self-paced course, Introduction to Conservation Finance, on CSF's Numbers for Nature Training Institute platform. This course is ideal for conservation professionals looking for our unique training on economic tools who would prefer to learn on their own schedule.
Financing the protection of nature is growing increasingly essential to the conservation and environmental protection fields. Led by David Meyers, Executive Director of Conservation Finance Alliance, this course will cover the fundamentals of conservation finance solutions, public and private sector partnerships, scalable strategies, and emerging tools and opportunities to help finance nature now and far into the future.
This course consists of six topics, or about 10 hours of self-paced work. Each chapter combines lectures with supplemental readings, quizzes, and reflections. The final chapter involves an engaging exercise to show interesting applications of conservation finance solutions to one's own work or interests. Optional additional resources are also available throughout the course.
Overview of Conservation Finance
Public Financial Management
Economic Instruments
Return Based Instruments and Risk Management
Businesses and Markets
Prioritizing Finance Solutions 
Participants will gain
After completing all chapters, participants will have a strong understanding of what conservation finance is, its objectives, and a variety of finance solutions from both public and private actors. Participants should also understand how to evaluate and compare the usefulness of different finance solutions to meet environmental protection goals in a given site. 
How to register
Those interested in this course can learn more and register for this course on the Numbers for Nature Training Institute platform here.