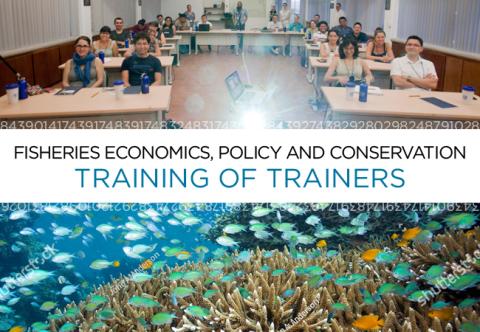 Of the 20 experts we trained on CSF's unique teaching technique, 78% stated that the training was valuable, and 100% would recommend this training to a colleague.
"As a government person, I never knew how to teach like CSF demonstrated to me. All I knew before was to jam all of the information into a Powerpoint presentation and have 50+ slides to explian to people in a 2 hour period, which was never effective. This training was a real turning point in my life. Now I know how to engage audiences using the skills I received. I cannot wait to implement this new way of teaching at my next opportunity."
-Mia Amalia, National Development Planning Agency of the Republic of Indonesia
---
ORIGINAL COURSE ANNOUNCEMENT
Are you an economist or a fisheries expert in Indonesia? Do you have what it takes to teach economics and/or fisheries in a way that is enjoyable and easy to digest for everyone? Are you interested in expanding your research interests to include institutions, policy, and governance? If so, we have a training opportunity for you. Apply now!
ABOUT THE COURSE
Conservation Strategy Fund is seeking Indonesian candidates who are passionate about teaching and willing to learn from our Training of Trainers program. Become part of a global network of skilled economists and fisheries experts teaching for CSF. The program will be held August 5 – 11, 2018 in Bali, Indonesia. This program is being offered with generous support from the MacArthur Foundation and will be held in collaboration with Bogor Agricultural University (IPB).
This program will provide a comprehensive foundation in economics curriculum design and pedagogy for adult learners along with linkages to institutions, policy, and governance within the Indonesian context. Topics will include: course development and design, participatory teaching methods, institutions and governance, policy and incentives, microeconomics, fisheries economics, valuation and cost-benefit analysis. The 5-day program will equip participants with the necessary skills to create and implement effective courses, and will include daily presentations by instructors, practice teaching sessions with feedback, and economics games and exercises.
Participants will gain excellent theoretical and practical knowledge while also learning to deliver this information in a fun and effective manner. Academics and practitioners are encouraged to apply.
ELIGIBILTY
The Training of Trainers Program is for experts in economics and/or fisheries with experiences working and teaching in Indonesia, including professors/lecturers, researchers, representatives of government agencies and think tanks, sustainable development practitioners, managers of conservation programs and protected areas, and directors of non-governmental and community organizations. Applicants must be proficient in spoken and written English.
TOPICS
Course development and design
Participatory teaching methods
Linking economics to governance and institutions
Policy and incentives
Economic fundamentals
Fisheries economics and management
Economic valuation and cost-benefit analysis
INSTRUCTORS
Our instructors are drawn from CSF staff, leading academics at renowned international universities such as University of Hawai'i and University of Wisconsin-Madison, as well as professors from Indonesia's leading fisheries university, Bogor Agricultural University.
COST
CSF will cover the cost of transport, materials, accommodation, and meals during the 5-day program for accepted applicants.
APPLICATION & SELECTION
The deadline for applications is July 7, 2018. Selection will be based on several criteria including but not limited to: background, teaching experience, English language proficiency, understanding of context, and willingness to learn. Those who are interested should fill out the application form and attach the following:
Curriculum Vitae (no more than 3 pages)
Sample teaching video
Video submissions can be sent to [email protected].
Candidates selected in the first round of evaluation will be asked to participate in an interview with CSF. The interviews will be used to select the final participants in the course.
Please contact [email protected] with questions.