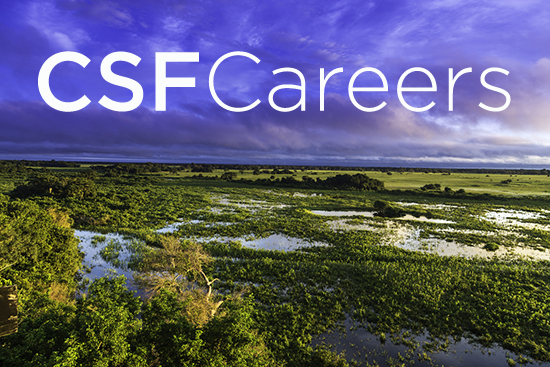 About CSF
Conservation Strategy Fund (CSF) is an international non-profit organization that uses economics to support environmental conservation and sustainable development. We conduct rigorous economic analyses of infrastructure, protected areas, conservation incentive programs, and related issues, deliver a world-class capacity building program, and work closely with governments, NGOs and other stakeholders to support well-informed decision making. We focus on Latin America and Indonesia with an evolving body of work in Africa, and have offices in Peru, Brazil, Bolivia, Indonesia and the United States.
---
CSF-Indonesia seeks a full-time Communications Officer to join our team. The person will lead the development of the CSF brand and raise awareness of our work. This position will work closely with the Indonesia Director and Program Manager, as well as our global Communications Manager. This role offers an excellent opportunity to develop connections with stakeholders from different locations and institutions, including NGOs, experts, academics, government agencies, and businesses.
Job description/key duties:
The Communications Officer will be responsible for leading CSF-Indonesia's communications work and assist in several program coordination duties.
Communications


Design, develop, and implement CSF-Indonesia's Communication and Outreach Strategy, taking into account our diverse working sectors and stakeholders.
Identify necessary communication tools to raise awareness and support for our work.
Design and develop creative content for different media outlets (social media, press, etc).
Take the lead in preparing and producing communications products such as news stories, infographics, activities highlights, short reports to donors, flyers, brochures, etc.
Collect and compile all project documentation (photos, videos, and voice recording) and create creative communication products based on the materials.
Represent CSF-Indonesia on the CSF global communications team, which includes weekly calls with other team members.
Work closely with the CSF global communication team for preparing news stories, social media posts, notes for donors, and overall global communications.
Review and edit proposals, reports, and articles.
Responsible for knowledge management within the organization.

Program coordination


Maintain and regularly update a calendar of communications, activities, projects, travel, vacation, etc. for all staff, and prepare reminders on upcoming activities.
Assist in event preparation such as courses, trainings, workshops, and other events.
Assist in managing Teamwork, our online project management platform.
Work with the Program Manager to help prepare monthly project report updates to US office.
Contribute to fundraising for CSF-Indonesia, including proposal writing, work planning, preparing marketing materials for funders, etc.
Expected travel:
This person is expected to travel 15% of all workdays in a year.
Qualifications:
Bachelor's degree in a relevant subject.
At least 5 years of experience working in communications, including:


Implementing or supporting public campaigns.
Implementing or supporting promotional campaigns.
Implementing or supporting a communications strategy.
Developing communications products (e.g. brochures, flyers, reports, infographics, articles, etc.).
Communications to different types of stakeholders, including government agencies and communities.
Communications for different media outlets (e.g. social media, press).

Knowledge of sustainable development, terrestrial and/or marine conservation, fisheries, or economics is preferable.
English fluency, both spoken and written.
Proven ability to deliver high quality outputs on time.
Highly motivated, willing to learn, and able to work with minimal supervision.
Ability to work in a multicultural environment.
Organized, flexible, detail oriented, and efficient.
Excellent interpersonal skills and positive attitude.
Terms of offer:
Annual contract position based in Indonesia, preferably Jakarta or Bogor.
The Communications Officer will report to the Program Manager.
Competitive compensation commensurate with level of experience.
Expected start date is 21 October 2019.
To apply please submit a cover letter, CV, and one example of a communication product you created (can be any type of communication product, such as an article, brochure, infographic, etc.) to indonesia@conservation-strategy.org. Deadline for submission is Friday, 20 September 2019 at 17:00 WIB. Please indicate 'Communications Officer' in the email subject line.
This vacancy is open only for Indonesian nationals based in Indonesia.
CSF Lead Economist
Job Summary
The Lead Economist is responsible for ensuring technical excellence and conservation impact from CSF's global body of work. S/he does this through technical and practical understanding of the interface between conservation and development, ability to drive policy change, and by inspiring and supporting CSF's analytical staff.
S/he provides guidance and leadership in conservation economics for the organization, ensures alignment of CSF's mission and our economics agenda and programmatic work across our country offices, and has a leading role in representing CSF to donors and new audiences, developing new collaborations, and bringing in new opportunities.
A significant percentage of time is dedicated to preparing technical proposals and finding new opportunities, leading economic analyses, mentoring and supporting our technical staff to ensure that their work is rigorous, compelling, and contributes to achieving CSF's goals.
This position requires a detail-oriented and organized thinker with exceptionally good written and verbal communication skills, who can juggle multiple, competing priorities. The ideal candidate will have broad experience with applied economic analysis targeted to address environmental challenges related to deforestation, financial sustainability of protected areas, overfishing, and climate change. The position provides an opportunity for a flexible work environment and an active voice in the vision of a focused, dedicated, and fun organization.
Responsibilities:
Vision: Orient the institution towards the best opportunities to use economics and policy analysis to deliver conservation and sustainable development, including through design of analyses to deliver policy-relevant information, fundraising, and forward-looking institutional strategy.
Communication: Ensure rigorous and compelling written presentation of research carried out across the institution, including in peer-reviewed journals and CSF white papers. Represent the organization and present results in a variety of meetings and events, including to technical and non-technical audiences.
Personnel management: Provide guidance and management to CSF's economists as direct-reports, as well as managerial support and mentorship to candidates of our fellows program.
Project management: Set project strategies and manage major research projects.
Scale our reach: Plan and execute the expansion and delivery of common types of analysis by standardizing tools and processes to the extent possible without sacrificing quality.
Leadership: Work directly with the Executive Director, Latin America Technical Director, Training Director, and CFO as a member CSF's leadership team.
Fundraising and external relationships: Represent CSF at external meetings, serve as lead point of contact for relevant partners and funders, provide technical input to proposals, and work closely with the Executive Director on business development, including presentations to potential funders and clients.
Track impact: Monitor and help evaluate performance of CSF's analyses and derive lessons for ongoing improvement in institutional approach.
Teaching: Participate as a dynamic and engaging instructor in our training programs.
Position Qualifications:
Advanced degree in natural resource economics or related. Demonstrated passion and experience in the field of natural resources, environment or sustainable development
10+ years of experience applying economics to environment and development issues, including working directly with policy makers, the private sector, academia, NGOs, and other stakeholders
Passion and commitment to nature conservation and sustainable development
Broad international and intercultural work experience
Technical proficiency in two or more of the following analytical areas: cost benefit analysis, valuation of ecosystem services, design of payment for ecosystem services, experimental economics, spatial modeling, fisheries modeling
Successful track record of writing technical proposals
Engaging and effective public speaker to academic and non-academic audiences
Enthusiasm for learning and taking on new analytical problems
Skills and experience navigating process with partners and clients to define and target research to drive policy and behavior change
Excellent communication and interpersonal skills
Detail-oriented and organized thinker who can juggle multiple, competing priorities
Ability to travel internationally, up to 30% of the time
Ability to fluently speak and write in English. Strong preference for proficiency in spoken and written Spanish. Portuguese and/ or Indonesian proficiency also a plus
Preferred location: Washington, DC
To Apply
Those who are accepted to the next round will be notified.
CSF mission
CSF sustains natural ecosystems and human communities through strategies powered by conservation economics. Our trainings, analyses and timely expertise make development smarter, quantify the benefits of nature, and create enduring incentives for conservation.