Indonesia Marine Fellowship Program - 2019
Monday, 1 April, 2019

-

Wednesday, 1 April, 2020

1 year 1 day

Begins in 1 week 12 hours
Conservation Strategy Fund (CSF), in partnership with the Faculty of Fisheries and Marine Sciences at Bogor Agricultural University (FPIK-IPB), is pleased to announce the launch of our second Marine Fellowship Program. We invite researchers, analysts, and practitioners to submit proposals for economic research projects related to fisheries management and marine conservation in Indonesia.
ABOUT THE FELLOWSHIP
The Marine Fellowship Program (MFP) was established in 2016 to identify and support Indonesia's emerging fisheries and marine economists. CSF and FPIK-IPB have since worked together to promote mutual research cooperation and develop capacity in marine and fisheries sciences in Indonesia. Fellows' research has focused on marine and fisheries resource management, ecosystem valuation, policy and governance, and socioeconomic instruments for developing marine and fisheries sectors in the Indonesian Fisheries Management Areas (FMA).
The 2019 MFP will focus on challenges and issues of policy and governance at the FMA level, directly contributing to the development and refinement of national and subnational fisheries policy.This fellowship is being offered with generous support from the David and Lucile Packard Foundation.
ELIGIBILITY
The Marine Fellowship Program is for researchers and analysts from government institutions and universities or other higher learning institutions, as well as practitioners with expertise and interest in developing economic research on fisheries management and marine conservation. The call is open to graduate students, professionals, civil society organizations (CSOs), and the private sector.
Applicants must have knowledge in economics and/or fisheries management and strong analytical skills. Statistical and quantitative skills are preferred. Participants can apply individually or as a team with one chief researcher. The focus research locations of this fellowship are Fisheries Management Area (FMA) 711, FMA 713, and FMA 716. Proposals must include marine or inland areas, or jurisdictions (provincial or kabupaten) within one of the focus FMAs.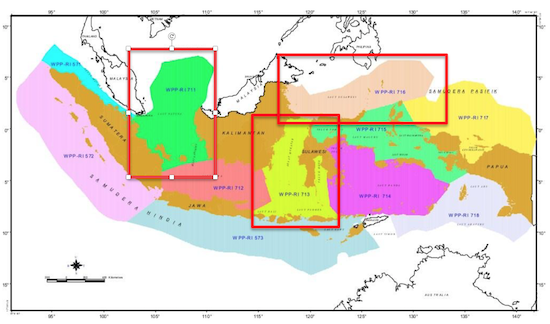 TOPICS
Research proposals must use economic analysis. Various economic tools may be used such as impact analysis, cost-benefit analysis, economic valuation, etc. Preference will be given to proposals that have the potential to influence decision-making. The 5 research themes for the application are as follows:
1. Upstream to downstream fisheries (input - production - output - market)
Analysis of fisheries input: fish traceability program
Input and output control policy (e.g. quota, gear restriction, access)
Technological innovation in fisheries management
Investment in small-scale fishing industries Contribution of existing small scale fisheries
Contribution of Integrated Fisheries Center (SKPT)
Impact analysis of seafood certification
2. Inland fisheries and aquaculture as alternatives to marine fisheries
Value of inland fisheries and aquaculture
Contribution of inland fisheries and aquaculture to local economy
Benefits of inland fisheries and aquaculture in supporting FMA's fishery goals
3. Marine Protected Area (MPA) contributions to fisheries
Economic potential of fishery and marine tourism
MPA conservation for ecological and economic benefit
Welfare of local community living within and adjacent to MPA
Ecosystem benefits of MPA to surrounding waters
Socio-economic benefits derived from MPAs
Alternative livelihood impact in communities living within an MPA
4. Human induced change in marine ecosystems
Climate change impacts to fisheries and marine ecosystems
Marine debris impacts to fisheries and marine ecosystems
Pollution impacts to fisheries and marine ecosystems
Impact of invasive/alien species
5. Fisheries management policy
Illegal, Unreported, and Unregulated (IUU) fishing policy impact to fisheries
Impact of Ministry of Marine Affairs and Fisheries (MMAF/KKP) direct assistance program
Effectiveness of Fisheries Management Areas (FMA/WPP)
Fiscal instruments to support sustainable fisheries Integrated land and coastal management and development
Regulatory impact assessment on national fisheries policies
Fishery industry investment in Indonesia
Please note that proposals can address more than one topic from the above list.
Clearly explain the topic(s) relevant to your research in the 'Context, Research Problems, and Goals' section of the research proposal form.
FINANCING
The selected proposals will be funded up to IDR 100,000,000. This amount may be used to cover fieldwork activities, analysis and data collection, travel cost related to any training or similar activities, and contracting services and fees for researchers (up to 25% of total budget). Applicants are encouraged to find additional sources of financing to complement this grant.
SELECTION
The selection process will prioritize proposals that demonstrate a strong understanding of the issue(s) to be addressed, research that directly relates to conservation and sustainable development projects, and technical knowledge of the economic approaches to be used. Ability to provide additional research funding is also desired. Preference will be given to proposals that:
Contain an institutional counterpart to complement the financial and/or technical aspects of the research project. In particular, those who submit a letter expressing the institution's interest in the research and indication of financial resources and/or time for the candidate to conduct research will be given special attention.
Can contribute to a master's thesis or doctoral dissertation.
Include a budget describing the relationship between the budget and the scope of research.
MENTORING
Technical support will be given by members of the CSF and FPIK-IPB team and other experts in environmental/natural resources/fisheries economics and marine sciences. Mentors are selected based on extensive field experience and deep understanding of the current challenges in fisheries management and marine conservation.
APPLICATION, DEADLINES, AND IMPORTANT DATES
Applications are due by February 4, 2019.
| | |
| --- | --- |
| Fellows Selection Process | Date |
| Call for proposals | 8 Jan 2019 |
| Proposals due | 4 Feb 2019 |
| Selection of proposals* | 5-15 Feb 2019 |
| Proposal presentation for finalists | 20 Feb 2019 |
| Announcement of selected Fellows | 22 Feb 2019 |
| Research start | 1 April 2019 |
*Note: There will be 2 (two) rounds of selection between February 5 - 15. Applicants selected for each round will be requested to revise their proposal on short notice.
Those who are interested should fill out the research proposal form. The proposal can be written in English or in Bahasa Indonesia. Applicants should also send the following documents to indonesia@conservation-strategy.org:
CV (no more than 2 pages) for each member of the research team
Institutional support letter
One representative of each fellowship team will be required to attend CSF's 2-week Economic Tools for Marine Conservation & Policy training course, to be held March 17 – 30, 2019 in Makassar, Indonesia.
For questions and inquiries about the MFP program, please contact indonesia@conservation-strategy.org.
APPLY NOW
CSF training announcements
Custom courses with CSF
Interested in a custom training course for your organization? Contact us and we can discuss location, timing, content, instructors and the cost of implementing a course.